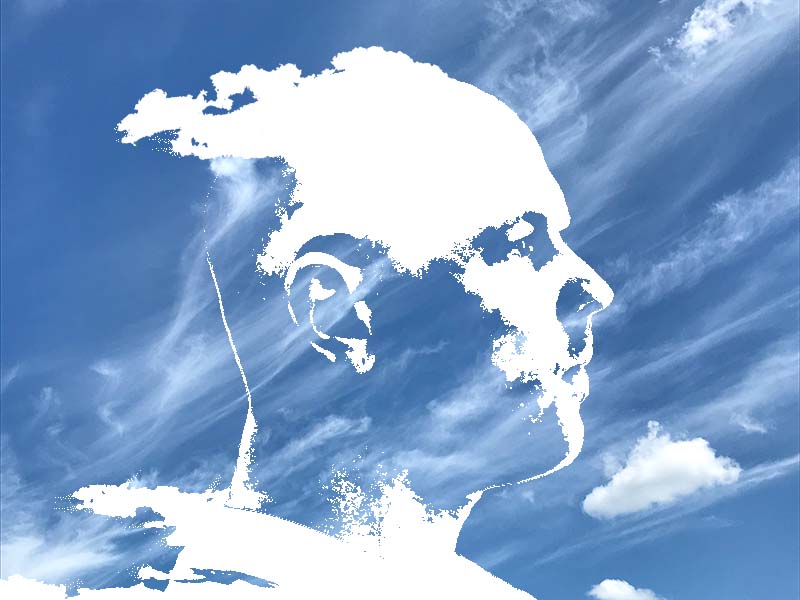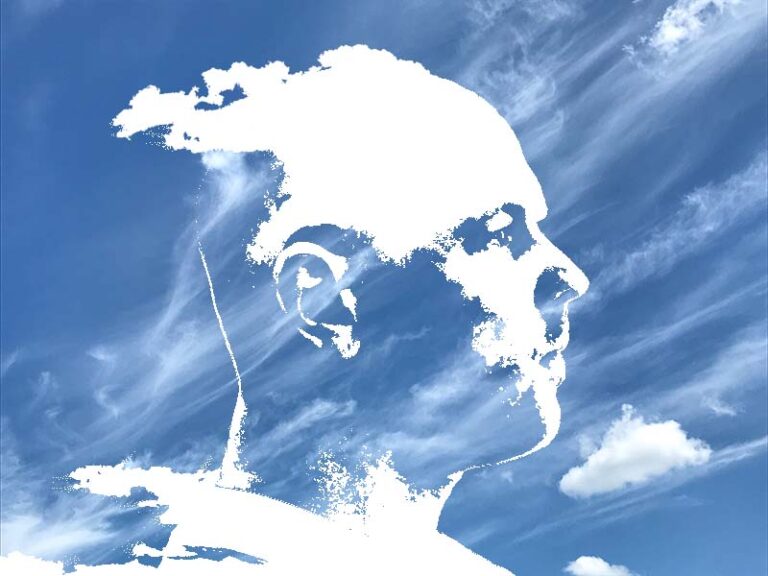 Martin Lukas Ostachowski is an artist based in Canada who explores geometric abstraction and minimalism using physical and digital languages through the use of technologies like blockchain.
Martin Lukas Ostachowski est un artiste basé au Canada qui explore l'abstraction géométrique et le minimalisme en utilisant les langages physique et numérique à travers l'utilisation de technologies telles que la blockchain.
Martin was born in Upper Silesia, a Polish region, to German ancestors in 1984. The area had belonged to Germany before the second world war, and afterward, German culture was suppressed. At the age of four, the adventure that would shape his whole life and artistic process began. Told he was going on a vacation, Martin boarded his first passenger flight with his parents to escape communist Poland and join their family in Germany. Fast-forward to 2013, he again entered a plane to immigrate to Canada.
Clouds and flying: new beginnings, hope, and adventure
Martin has been moving around his whole life. Challenged twice with a completely new life in a different country, he has never really experienced deep-rootedness in any place, although he has always been fascinated by those who did. Hence his passion for travelling and exploring different cultures: a constant in his life, embracing the idea of us all as international strangers, outside of our comfort zones, without borders, looking forward to our destinations and new memories.
In the last six years, Martin made over 300 flights with his day job, during which he started studying clouds, taking photos and recording videos.
Our keys to the paradisiac, puffy world of Martin Lukas Ostachowski: the "clouds artist"
Martin's work is extremely personal, intimate, and explores the concepts of his identity. He enjoys the versatility of clouds, their peculiarity of being intangible, in continuous change and transience, while remaining familiar and relatable to everybody. They assume various meanings across different cultures; for instance, referencing divinities in positive and negative contexts.* Clouds can refract the light and fill the sky with the brightest colours; they can indicate weather change. This ambiguity is a perfect stage for the artist's work; they represent the fact that we will never see the same cloud(s) twice.
The artist's personal path of change over the years is reflected in his series of woven and cut-out pieces (Making Of Tropopause Reflections One). In this series, the three layers of the paintings represent the past, a hardly visible opaque background, for his fading memories of Poland; the present, the main visible layer, for his formative years in Germany; the future, woven stripes, for his discoveries in Canada. This concept serves the artist as a canvas, a base for new paintings exploring blockchain technology, each one always manifesting like a living being: coming with a past, a present, and a future.
Martin started exclusively with physical art, publicly identifying as an artist in 2015. He was always interested in digital art, although against forcing it into physical mediums to limit its distribution. Blockchain came as the game-changer, and Martin started using technology in the actual process of making art. For instance, he used the graphic design software that he had been learning since the age of 18 when he opened his design studio to validate concepts before working for hours on a piece. Other processes include laser cutting and plotting.
He began his blockchain experience as an observer at the end of 2017 before starting to tokenize his art in June 2018. He truly believes in the technology's transformative potential beyond cryptocurrency. Since the way technology is communicated is discouraging for most people, but familiarizing them with it is key to inclusion, it became a passion for Martin to educate people about blockchain. The blockchain itself became the subject of a whole body of work with clouds as its "medium." Clouds are a great symbol for the blockchain ecosystem, considered its fragility. Blockchain is an accumulation of hope, just as a cloud is of water, for a better future, wealth, and socio-economic systems. The moment people lose their hope, they will disconnect their computers, and the blockchain will dissolve, just like a cloud.
In conclusion, clouds embody the artist's two big passions: art and blockchain, his personal life and technology. He has also used clouds as his art "material," often trying to express things using them. Many of Ostachowski's art pieces take a long time to be completed. Sometimes, for a video-based work, it can take two years to gather videos, and for some others, hours and hours of flights to collect photos.
Martin's clouds are of cotton and peacefulness; they are of data and mathematical patterns. They are art and technology. Existing in a sweet juxtaposition, specular and complementary. Clouds are life. The artist's life.
Eleonora Brizi
Curator
* For instance, in Christianity singular clouds were often associated with divinity and positivity; while in The Last Judgement, a group of clouds, with the end. In Greek mythology, Nephele was a cloud nymph. In mythology, the bright clouds can be linked to divinity, while the dark ones to despair and doom.
Martin est né en Haute-Silésie, une région de la Pologne, d'ancêtres allemands en 1984. La zone appartenait à l'Allemagne avant la Seconde Guerre mondiale, et par la suite la culture allemande a été réprimée. À l'âge de quatre ans, l'aventure qui formera toute sa vie et son processus artistique a commencé. En lui disant qu'ils partaient en voyage, Martin a pris son premier vol passager avec ses parents pour fuir la Pologne communiste et rejoindre leur famille en Allemagne. Puis en 2013, il a de nouveau pris l'avion pour immigrer au Canada.
Les nuages et le vol: nouveaux commencements, espoir et aventure
Martin a été en mouvement toute sa vie. Mis à l'épreuve deux fois en commençant une toute nouvelle vie dans un pays différent, il n'a jamais vraiment eu l'expérience de racines profondes en un endroit, même s'il a toujours été fasciné par ceux qui en ont. De là sa passion pour le voyage et l'exploration de cultures différentes : une constante dans sa vie, embrassant l'idée que nous sommes des étrangers internationaux à l'extérieur de notre zone de confort, sans frontières, impatients de voir de nouvelles destinations et de créer de nouveaux souvenirs.
Dans les six dernières années, Martin a pris l'avion plus de 300 fois pour son travail quotidien, ce qui lui a permis d'étudier les nuages, de prendre des photos et d'enregistrer des vidéos.
Nos clés vers le monde paradisiaque et bouffi de Martin Lukas Ostachowski: « l'artiste aux
Le travail de Martin est extrêmement personnel, intime, et explore les concepts de son identité. Il apprécie la versatilité des nuages, leur particularité d'être intangibles, en continuel changement et toujours fugaces, tout en restant familiers pour tout le monde. Ils assument des significations différentes selon les cultures; par exemple, en référençant les divinités selon des contextes positifs ou négatifs*. Les nuages peuvent réfracter la lumière et remplir le ciel des plus brillantes couleurs; ils peuvent indiquer les changements météorologiques. Cette ambiguïté est une scène parfaite pour le travail de l'artiste, ils représentent le fait que nous ne verrons jamais le même nuage deux fois.
La voie personnelle de l'artiste de changement à travers les années se reflète dans cette série de pièces tissées et découpées (Making Of Tropopause Reflections One). Dans cette série, les trois couches des peintures représentent le passé, un arrière-plan opaque très peu visible, représentant ses souvenirs de la Pologne qui s'estompent; le présent, la couche visible principale, pour ses années de formation en Allemagne; le futur, des lignes tissées, pour ses nouvelles découvertes au Canada. Le concept sert de toile à l'artiste, de base pour de nouvelles peintures explorant la technologie blockchain, chacune se manifestant toujours comme un être vivant : complète avec un passé, un présent et un futur.
Martin a commencé exclusivement avec l'art physique, s'identifiant publiquement comme un artiste en 2015. Il s'est toujours intéressé à l'art numérique, mais en le forçant dans des médiums physiques pour limiter sa distribution. La blockchain a changé le jeu, et Martin a commencé à utiliser la technologique dans le processus actuel de la création artistique. Par exemple, il a utilisé des logiciels de design graphique dont il apprenait l'utilisation depuis ses 18 ans quand il a ouvert son studio pour valider les concepts avant de passer des heures à travailler sur une pièce. D'autres processus incluent le découpage et le traçage au laser.
Il a commencé son expérience blockchain en tant qu'observateur à la fin de l'année 2017 avant de commencer la tokenisation de son art en juin 2018. Il croit sincèrement au potentiel de transformation de la technologie au-delà de la cryptomonnaie. Puisque la façon dont la technologie est communiquée est décourageante pour la plupart des gens, mais que la familiarisation à la technologie est la clé de l'inclusion, Martin a développé la passion de l'enseignement de la blockchain. La blockchain elle-même est devenue le sujet de tout un corps de travail avec les nuages comme « médium ». Les nuages sont un bon symbole pour l'écosystème de la blockchain, considérant sa fragilité. La blockchain est l'accumulation d'espoir, comme les nuages sont une accumulation d'eau, pour un avenir, une richesse et un système socioéconomique meilleurs. Dès que les gens perdent espoir, ils déconnectent leur ordinateur, et la blockchain se dissout, comme un nuage.
En conclusion, les nuages représentent les deux grandes passions de l'artiste : l'art et la blockchain, sa vie personnelle et la technologie. Il a aussi utilisé les nuages comme le « matériel » de son art, tentant souvent d'exprimer les choses en les utilisant. Plusieurs des œuvres d'art d'Ostachowski prennent beaucoup de temps pour être complétées. Parfois, pour un travail basé sur des vidéos, ça peut prendre deux ans pour rassembler les vidéos alors que pour d'autres, il faut des heures et des heures de vol pour collecter les photos.
Les nuages de Martin sont faits de coton et de paix; ils sont faits de données et de modèles mathématiques. Ils sont de l'art et de la technologie. Ils existent en une douce juxtaposition particulière et complémentaire. Les nuages sont la vie. La vie de l'artiste.
Eleonora Brizi,
conservatrice d'art
* Par exemple, dans le christianisme, un nuage seul est souvent associé à la divinité et à la positivité, alors que dans Le Jugement dernier, un groupe de nuage est associé à la fin. Dans la mythologie grecque, Néphélé était une nymphe des nuages. Dans la mythologie, les nuages lumineux peuvent être liés à la divinité, alors que les nuages sombres sont liés au désespoir et à la condamnation.