You are invited to the upcoming group exhibition INTERSECTION ÉPONYME, which features 35 artists originally from or residing in Sherbrooke, QC. I am showcasing two new paintings of my Exclamatory Intermezzo series. Here is a small sneak preview of my work in progress: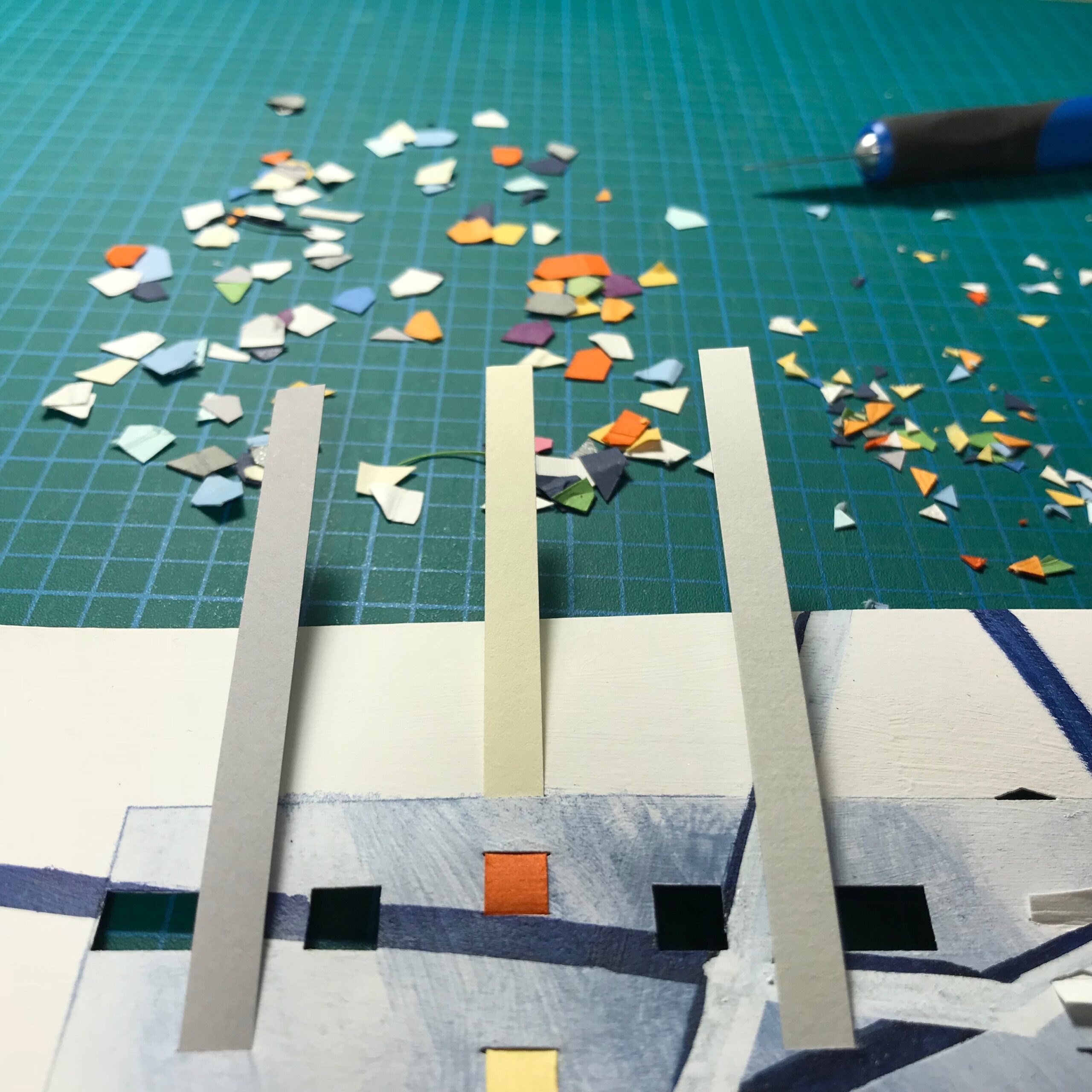 Work in Progress: Glimpse in the Tropopause – Top View
11 x 14 in. / 27.9 x 35.6 cm
Acrylics on mixed layered paper
I am looking forward to welcoming you there!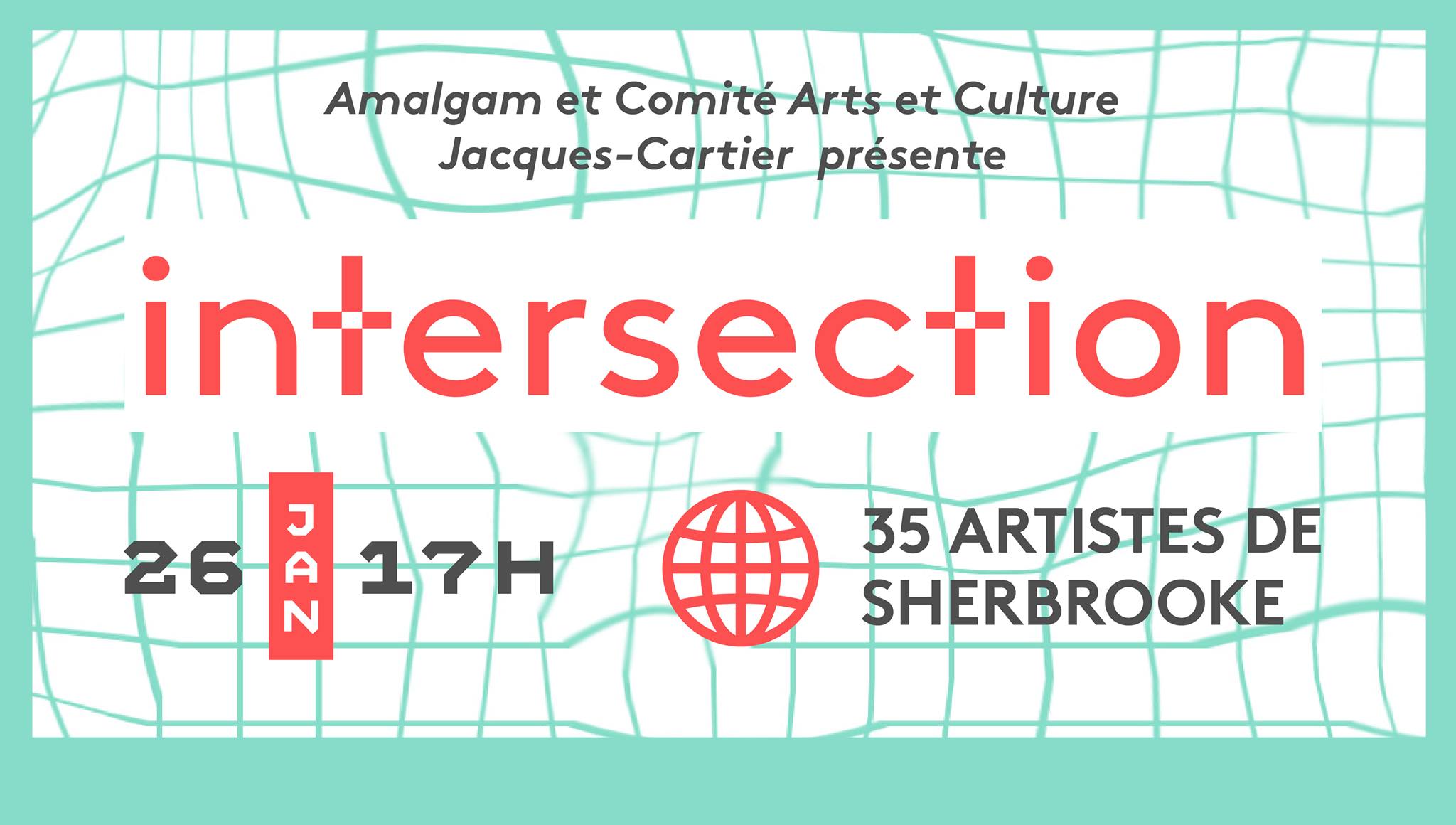 Vernissage: January 26th, 2018 / 17h00 to 20h00 / 5 to 8 PM
January 26th to March 9th, 2018
Centre communautaire et culturel Françoise-Dunn
2050 Boul de Portland, Sherbrooke, QC J1J 1T9
Exhibition Press Release:
SECOND EDITION OF THE VISUAL ARTS EXHIBITION INTERSECTION EPONYME: 100% SHERBROOKE
Sherbrooke, January 8th, 2018 – Following the success of the last two Art Flip exhibitions and the first edition of Intersection in Sherbrooke, the same organizers are setting up an entirely Sherbrooke-based show. In the manner of two paths intersecting, the exhibition Intersection – Éponyme aims to bring together and showcase the Sherbrooke art scene. The 35 artists who will be exhibited have a wide variety of artistic experiences, but all are from Sherbrooke or live there.
The opening of this exhibition will take place on Friday, January 26th from 5 pm to 8 pm at the Community and Cultural Center Françoise-Dunn. Intersection – Éponyme will bring together the work of 35 artists with different styles, approaches, and techniques.
Curator of the exhibition: Vincent Arnold
The works are on display until March 9, 2018.
—
DEUXIÈME ÉDITION POUR L'EXPOSITION INTERSECTION ART VISUEL: EXPOSITION 100% SHERBROOKOISE
Sherbrooke, 8 janvier 2018 — À la suite du succès retentit lors des deux dernières expositions Art Flip et la première édition Intersection à Sherbrooke, les mêmes organisateurs mettent sur pied une exposition entièrement Sherbrookoise. À la manière de deux chemins qui se croisent, l'exposition Intersection – Éponyme vise à regrouper et à faire découvrir la scène artistique sherbrookoise. Les 35 artistes qui y seront exposés ont des expériences artistiques très variées, mais tous sont originaires de Sherbrooke ou y vivent présentement.
Le vernissage de cette exposition aura lieu le vendredi 26 janvier à partir de 17 h jusqu'à 20 h au centre communautaire et culturel Françoise-Dunn. Intersection regroupera le travail de 35 artistes aux styles, aux approches et aux techniques variées.
Commissaire de l'exposition : Vincent Arnold
Les œuvres seront exposées jusqu'au 9 mars 2018
Comité Arts et Culture Jacques-Cartier on Facebook
Amalgam – Festival d'Art Urbain on Facebook
The group exhibition "Intersection Éponyme" in the press: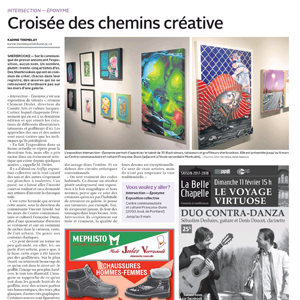 La Tribune
February 20th, 2018
Croisé des chemins créative
This article has no direct link but can be bought at La Tribune