In my previous post, I explained how my generative series, Noctilucent Mementi, reflects on the past five years of my journey in crypto art. Interwoven with personal milestones, experiences, and travels, the series primarily traces my development as a crypto artist. It essentially serves as a brief chronicle of various crypto-art-related events.
In this post, I aim to highlight some of the series' crypto-centric memories, inviting you to take a stroll down memory lane with me and discover more about the series, myself, and the early days of crypto art.
Overview of the Five Years of Crypto Art Series
2018 (1/6) – 2019 (2/6) – 2020 (3/6) – 2021 (4/6) – 2022 (5/6) – 2023 (6/6)
Pre-Crypto Cloud Art
In early 2017, I started taking photos and recording videos of clouds during my many flights as a passenger. The idea to explore clouds in my artworks emerged when I realized that my extensive travels allowed me to capture clouds from a unique perspective and frequency not easily accessible to others. The transition into a new body of work happened when I began tokenizing crypto art. But let me not get ahead of myself.
January 2018
In January, I finalized the Glimpse in the Tropopause Diptych. It is one of the early pieces that combined my Exclamatory Intermezzo series with depictions of clouds, predating my entry into the crypto art realm.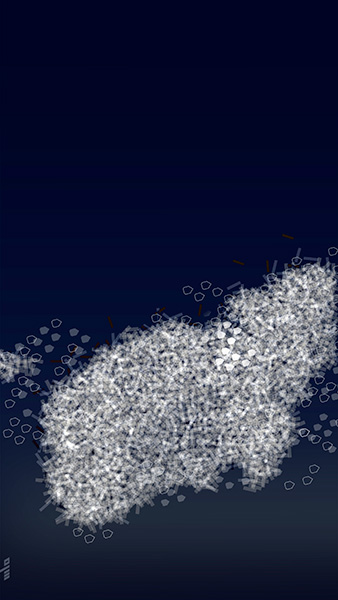 The series explores my identity as a digital nomad. The three layers of the paintings symbolize the past, present, and future, as well as the three countries I have resided in.
The Noctilucent Memento #2 (first collected by jay_wooow) references the Intersection Eponyme group exhibition at the Cultural Center Françoise Dunn in Sherbrooke, QC, in January 2018, where the diptych was first presented.
These artworks were pivotal in initiating discussions with Clément Drolet, the cultural center's then-artistic director.
Following our conversations, Clément generously offered to host my first solo exhibition at the Cultural Center Françoise Dunn in 2019.


March 2018
In previous exhibitions and conversations, I saw a tendency among the audience to be drawn to my woven paper paintings.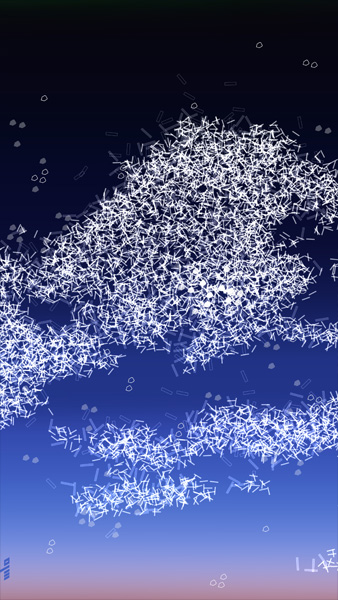 However, explaining the process proved time-consuming, mainly as I worked on becoming proficient in French.
Over several weeks, I recorded the creation of my first large-scale piece, Tropopause Reflections One (2017). Using an 18 x 24-inch paper sheet, I hand-cut 1,064 holes and intricately wove 532 paper strips into the painting — a meditative yet painstakingly slow process.
During a trip to Kansas City, MO, in March 2018, I vividly remember spending my nights in the hotel immersed in the screen, cutting and editing video clips to produce a short making-of video.
This video marked my initial attempts into editing art videos and of more profound documentation of my process and artworks. Noctilucent Memento #84 (first collected by Tokenangels) depicts the clouds over Kansas City during this trip.
Entering Crypto Art
June 2018
By June, I dedicated several months to researching crypto projects in the art space. Two notable projects that stood out were the recently established KnownOrigin in Manchester and the Brooklyn-based SuperRare. I contacted both marketplaces and became one of the initial 20-30 artists on each platform within days. Interestingly, with KnownOrigin, the process at the time included completing a form and submitting the artwork online. The team created the tokens but minted them only upon sale.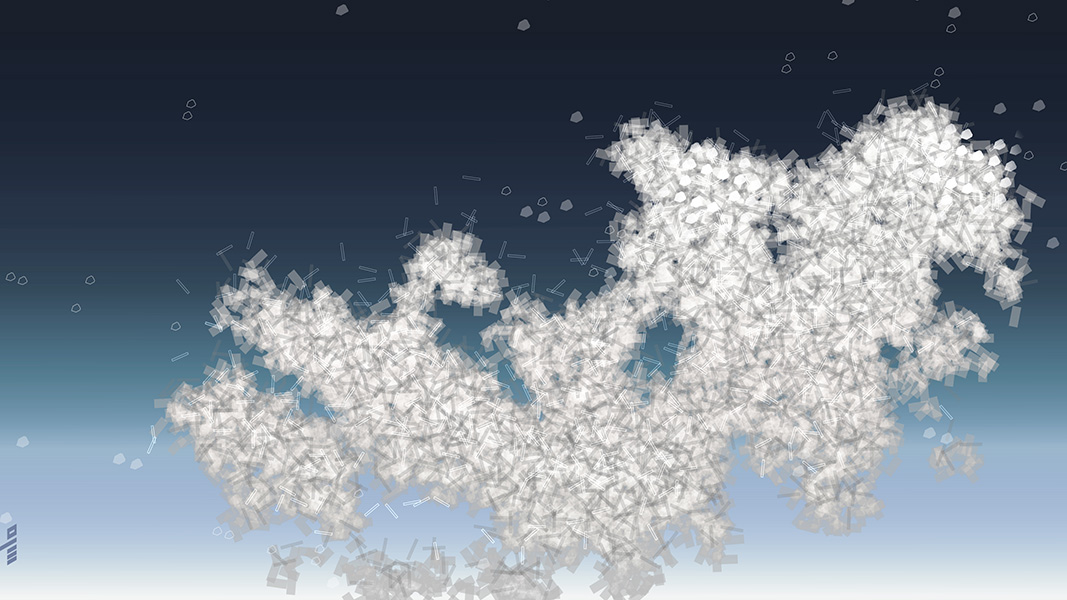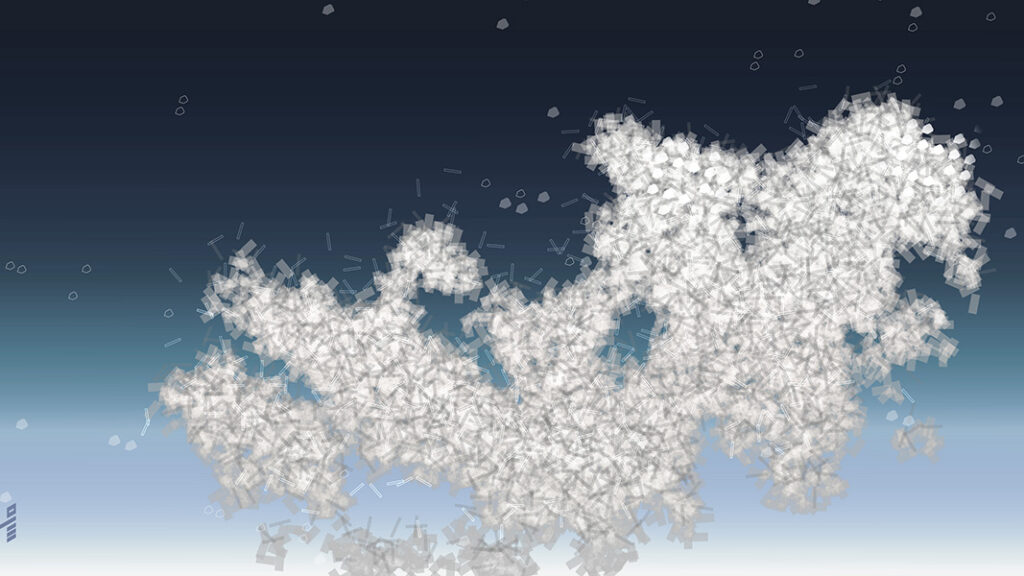 While it enabled me to mint a few days earlier, KnownOrigin could have enhanced the provenance of their initial tokens. The KnownOrigin team generated my first two NFTs, the Tamed Lines Diptych, on the V1 smart contract on June 24th, 2018, as KODA tokens #269 and #270.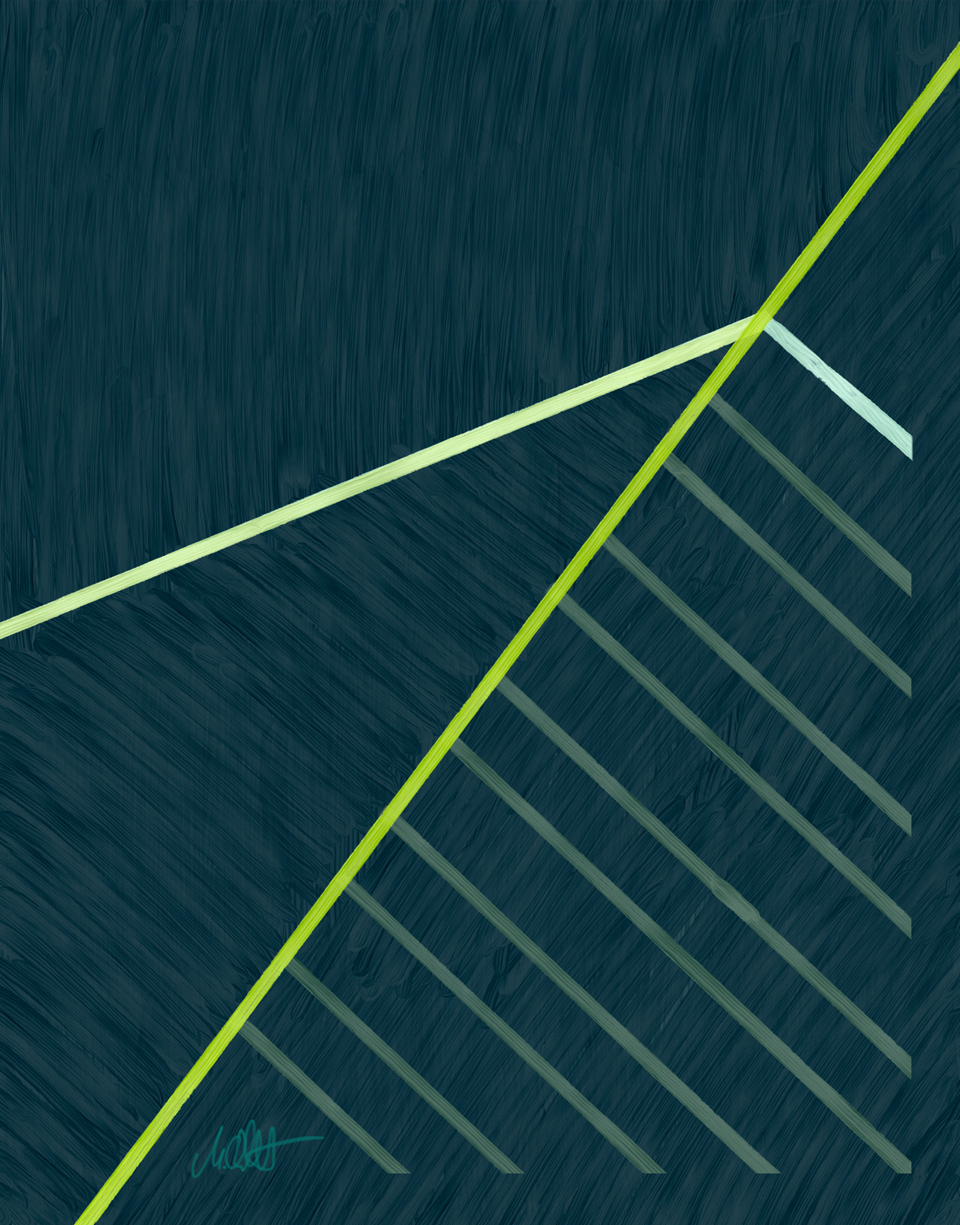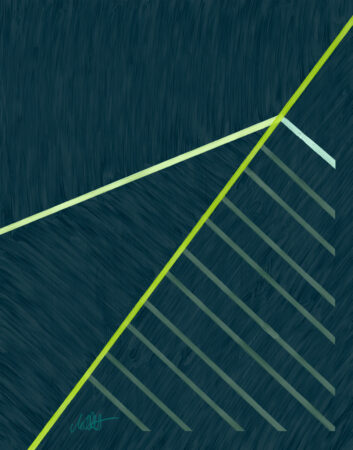 Following a smart contract update, KnownOrigin reissued the same artworks 72 days later on the V2 contract as KODA tokens #8901 and #9001, dated September 4th, 2018. A big thank you to Takens Theorem, who restored the V1 contract and allowed many artists to access their original metadata. If you come across a KnownOrigin token dated September 4th, chances are it is a few months older.
Noctilucent Memento #98 commemorates the sky over Atlanta and the creation of my Genesis NFTs since the tokens went live while I was on a trip in Georgia.
July 2018
1st Crypto Art Sale
Not one, but two Noctilucent Mementi commemorate my first crypto art sale. My initial tokenized pieces were drawn visualizations of blockchain elements and processes, such as Transaction Block, a geometric study that was first collected by acid_raindance. As a traditional artist, I grew frustrated with the limited opportunities to exhibit and even fewer to sell art. Accordingly, the impact this first digital sale had on me was profound.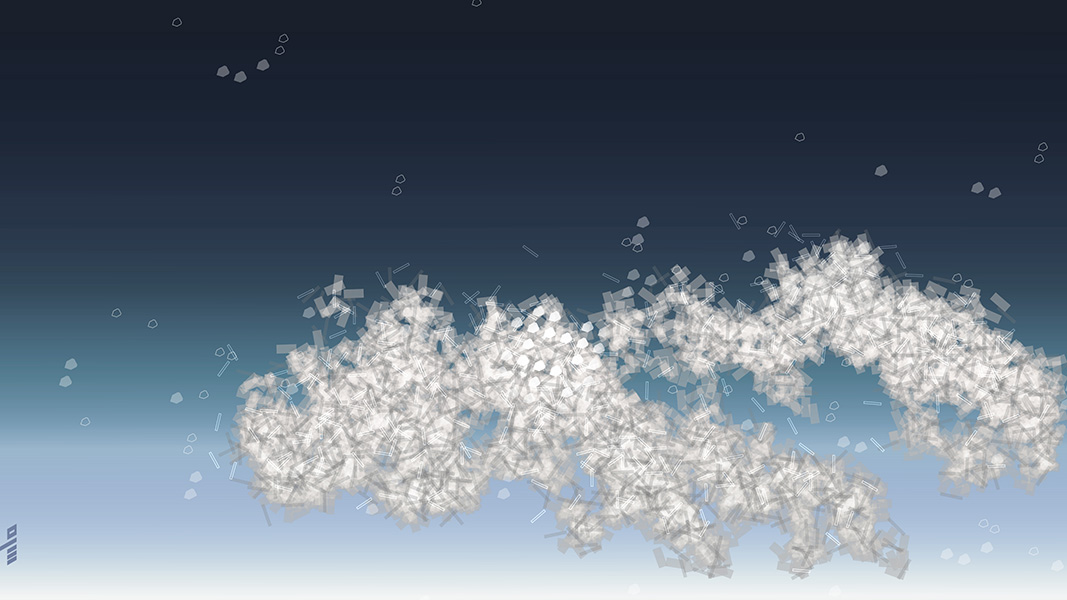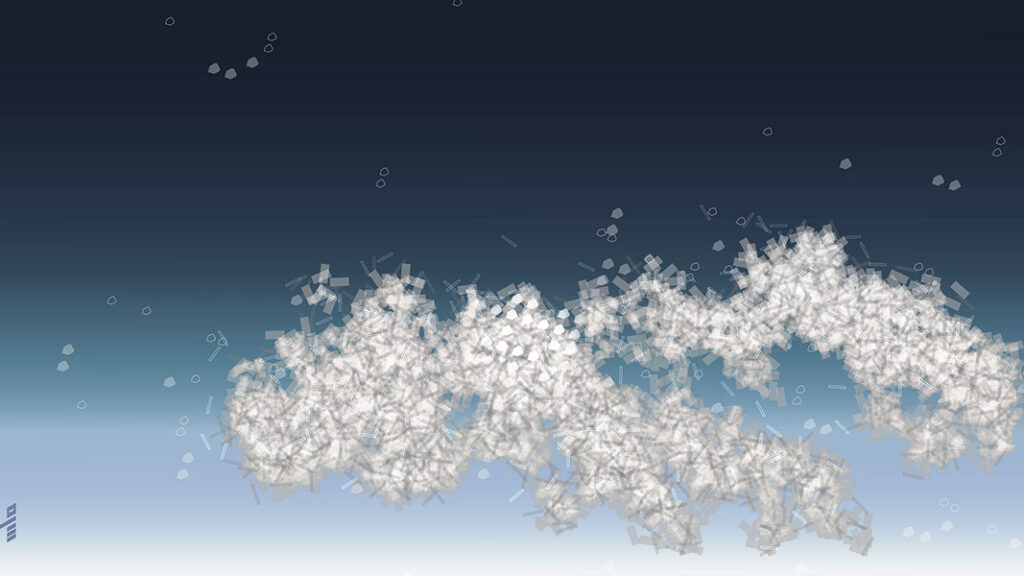 Noctilucent Memento #99 and Noctilucent Memento #100 capture the clouds over Davenport, Iowa, during a trip when the sale occurred. In a blog post a few days after the sale, I referred to it as a milestone and my first digital painting sale, given that the terms tokenized art, crypto art, or NFTs were not established then.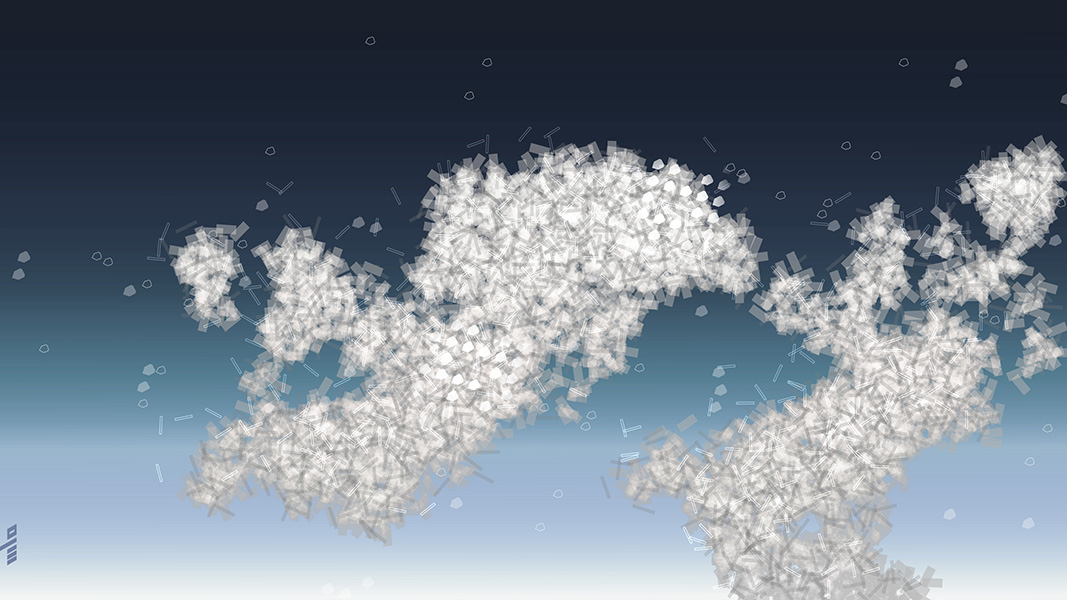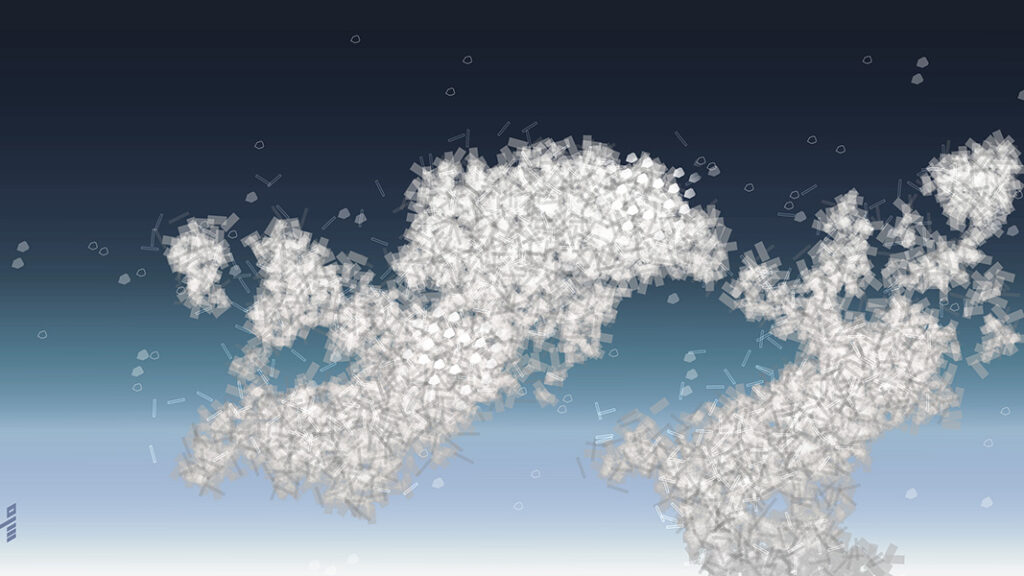 Looking back at those early crypto art blog posts, I noticed how quickly and unmistakably the transformative potential of this technology struck a chord with me—and that sentiment hasn't changed up to now.


Seed Phrase Visualization
Noctilucent Memento #5 reminds me of my generative crypto art series breaking down seed phrase words, completed within the same month. It was one of my initial attempts to dive into the granular aspects of blockchain technology.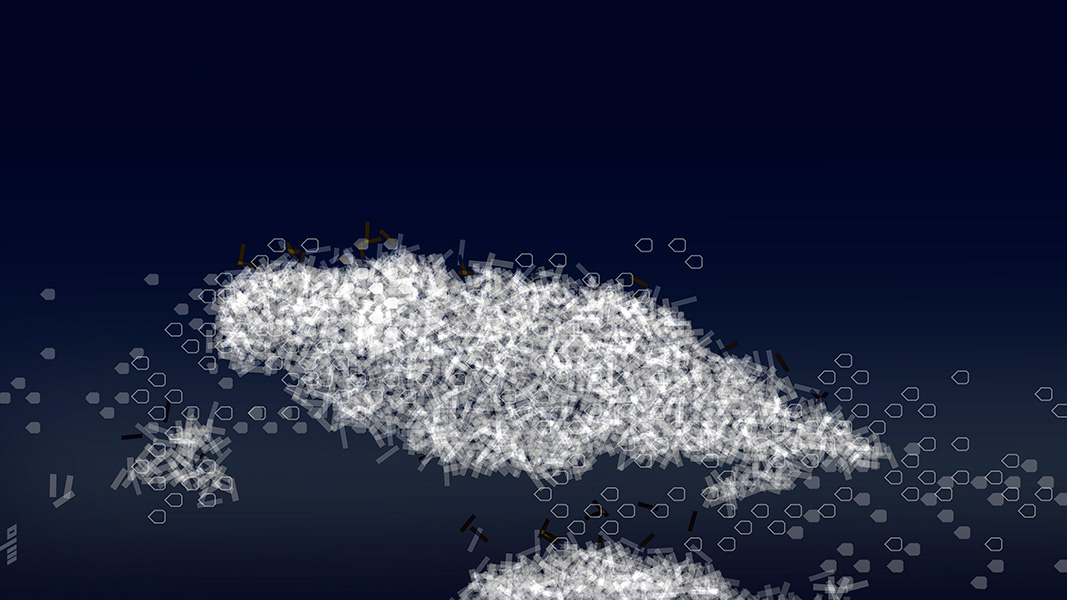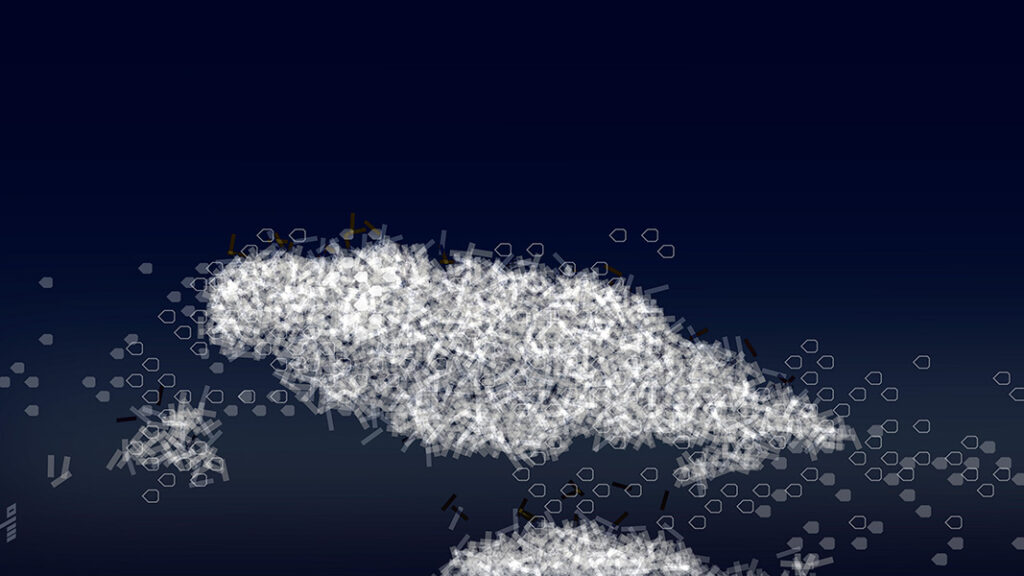 The Seed Phrase Words Visualization series represents my first generative visualization, but I also experimented with launching across two marketplaces, Superrare (black 1/1 editions) and KnownOrigin (white 1/5 editions). By then, I had been working for a while with node-based code and software systems to visualize data.


Many of these editions remained unminted until the bull run in 2021/22. Notably, a blog post by crypto influencer Artchick in February 2022 raised awareness about the series. At that time, she interviewed and wrote about artists and their work on her blog, digitalartcollector, before shifting her focus to tweets.
Distributed Conference San Francisco
Before BTC media shifted its focus entirely to Bitcoin, they also organized the Distributed Conference series. In July, BTC media hosted the conference in San Francisco along with ConsenSys and Wanxiang Blockchain Labs.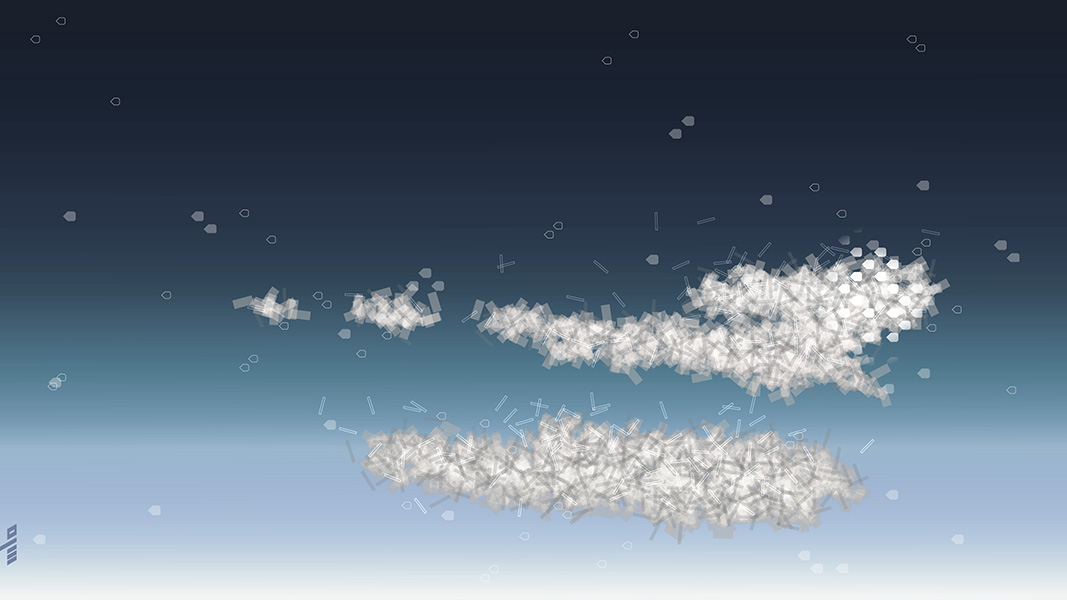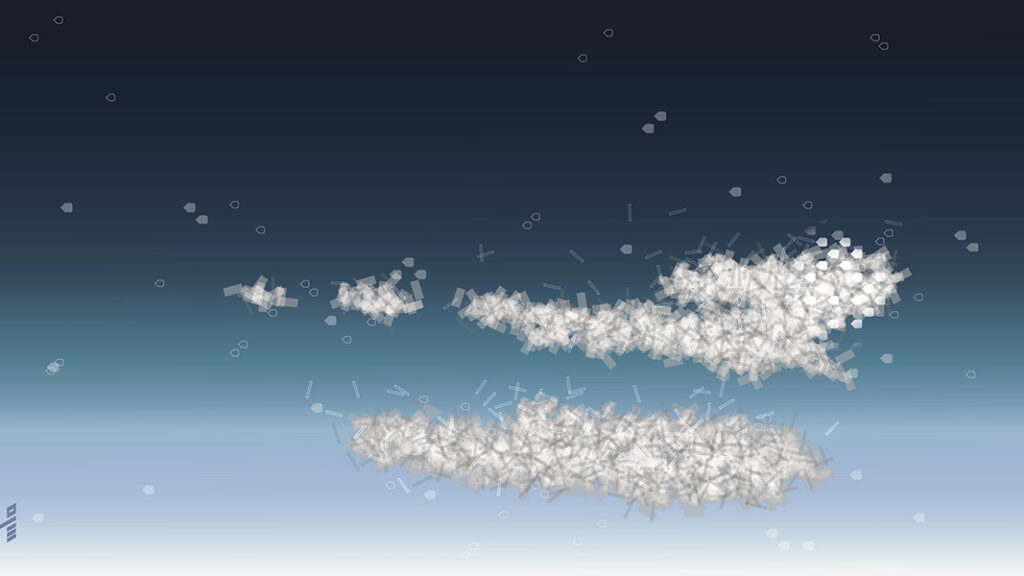 Artist and Artproject.io community organizer Jessica Angels contacted me for an art showcase she curated for Distributed. I created an animation featuring my colourful blockchain architecture studies alongside my expanding cloud-themed body of work.


It was an exciting opportunity to exhibit my crypto art for the first time alongside artists like Benton C Bainbridge, Brian Romero, Jessica Angels, and Gilberto Castilloin in the Borgia room of the Westin Hotel. While the conference was happening, I was travelling in Texas. Noctilucent Memento #96 captures the clouds over Dallas during that period.
Creation of Cloud Spheres
At the end of July, I completed my Cloud Sphere series, consisting of twelve photo collages created during passenger flights. Initially, the artworks were untokenized, not yet linked to an augmented reality layer and didn't include the QR code-like texture around them, which later served as the AR marker.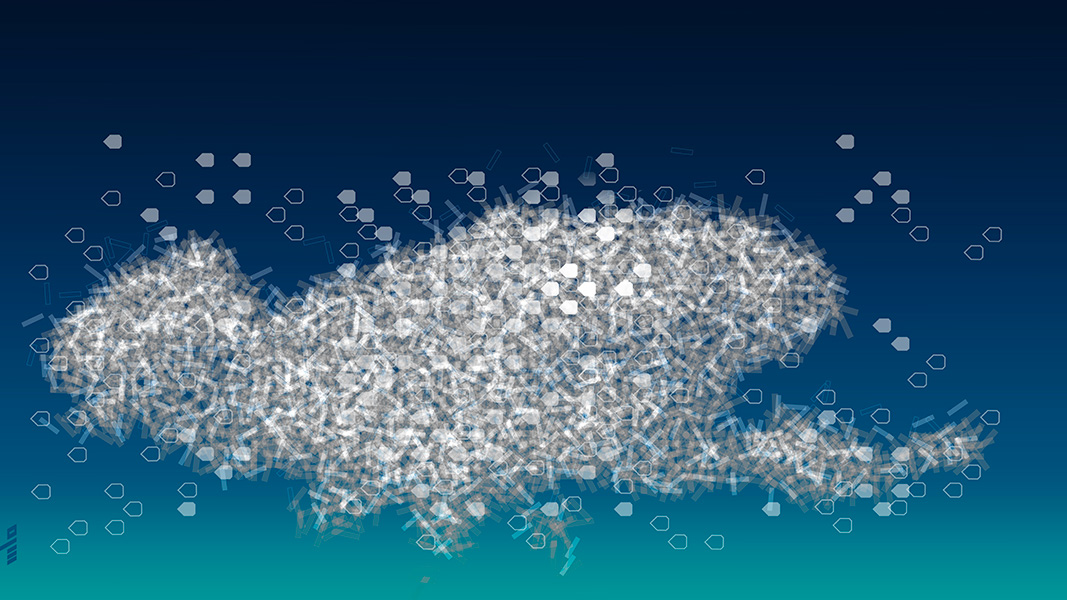 The series became, over time, my most exhibited collection and was part of physical exhibitions in North America, Europe and Asia, as well as published in the peer-reviewed Leonardo journal by MIT Press. I expanded on the series in the 2019 overview when I tokenized and exhibited the series.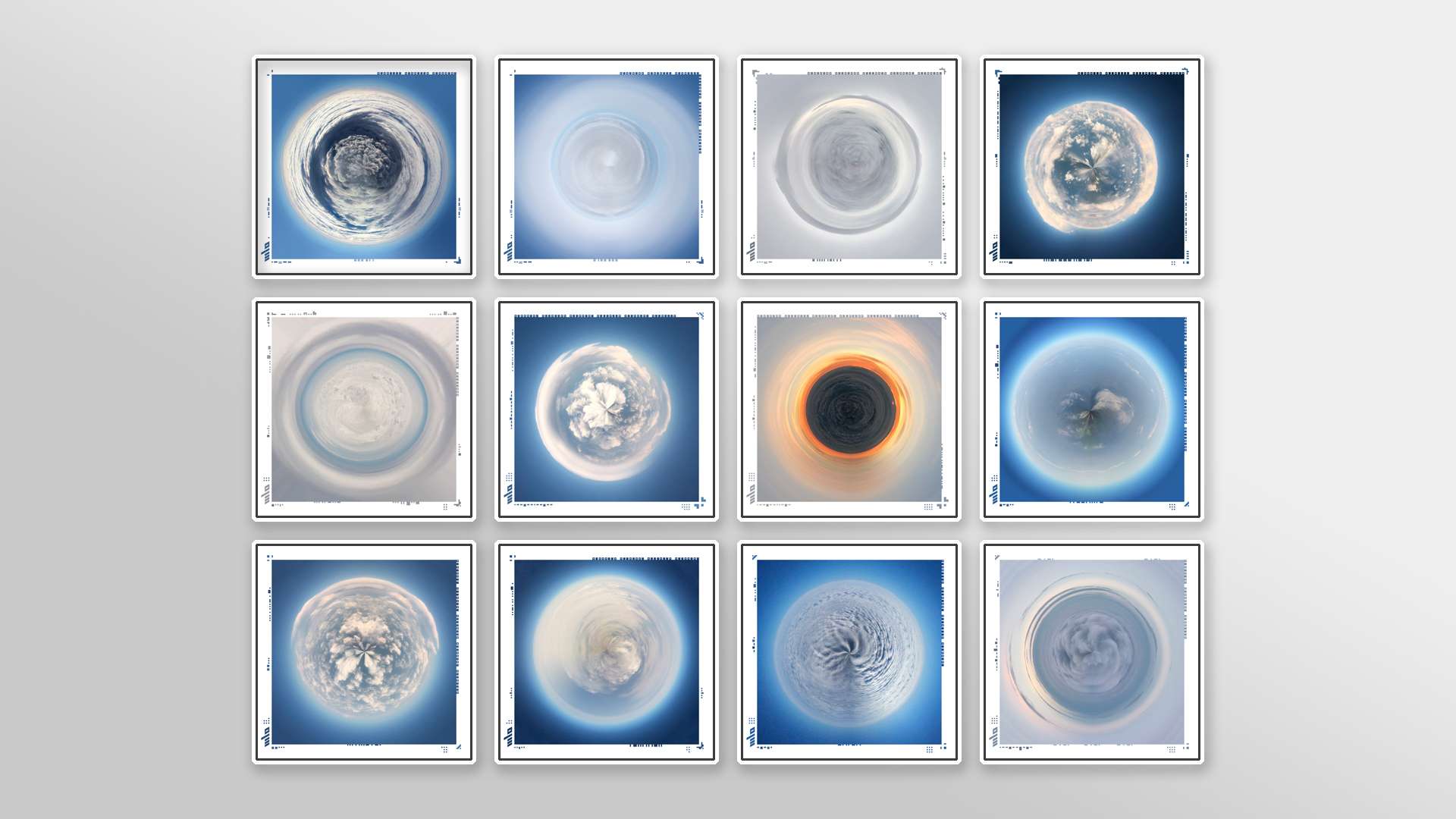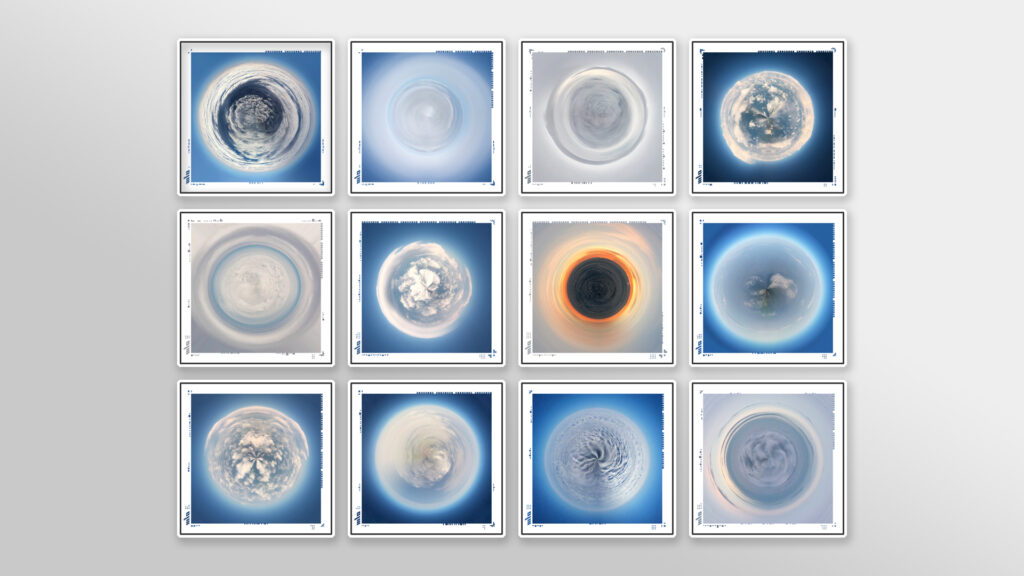 September 2018
As mentioned earlier, the visualization of Seed Phrase Words kept captivating me, and my iterations continued. Throughout this process, I noticed that I increasingly enjoyed working with real datasets and visualization.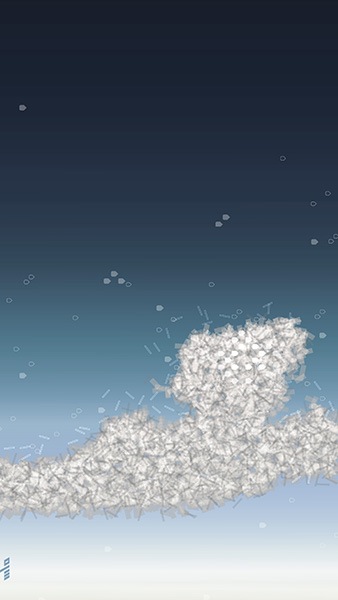 By then, I was "harvesting" clouds almost daily for nearly two years, and both physical and digital artworks naturally gravitated toward the cloud theme. In retrospect, it's evident that the outputs subconsciously evolved in the same direction.
Once I saw the raw outputs, which later formed the foundation of my Cloud Seed Phrase Visualization, it all clicked for me. I had been searching for a broader theme for my body of work, and although I sensed it would be blockchain-related, I couldn't quite pinpoint it yet. Seeing the cloud distinctly in front of me, my mind raced with the many symbolic meanings it could carry.
It would take me a few years to articulate that, but it was a pivotal moment commemorated by Noctilucent Memento #101 (first collected by Ana Maria Caballero). The Memento depicts the clouds over Orlando, Florida. During the trip, I spent my evenings in the hotel, completing the final touches of the visualization.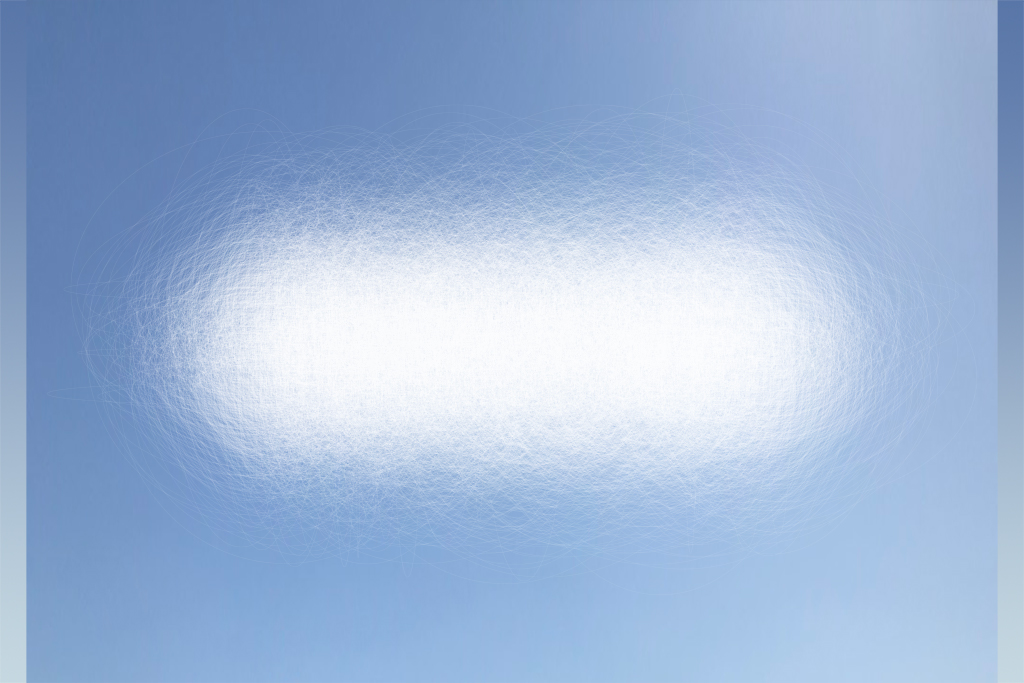 The Noctilucent Mementi series stylistically connected to the Cloud Seed Phrase Visualization, closing a circle that I began to draw five years ago. I recently discussed the influences in another blog post.
October 2018
Creation of the Devcon4 UX Award
In October, the KnownOrigin marketplace collaborated with the Devcon4 UX Awards for one of their Creative Challenges. Alongside six other artists, I crafted DevCon-themed NFTs for this collaborative initiative.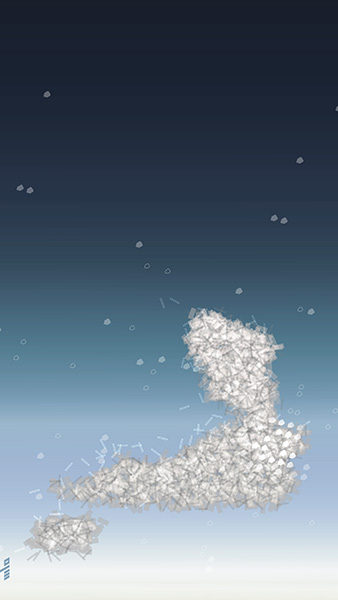 My artwork, UX18 AWARD, was selected as the UX Awards trophy. Interestingly, the award was initially tokenized as a 1/1 edition, as still reflected on the KO website. However, as there were three winners, the artwork was transformed into an edition.
Given that the conference was held in Prague, my animation showcased prominent city sights forming the shapes of UX18. You can also preview the animated artwork in this Devcon4 recap by Sean O'Connor.
Unfortunately, I couldn't attend the conference, even though I was in the neighbouring country of Germany at that time.
Noctilucent Memento #103 (first collected by SnaileXpress) serves as a visual reminder of the clouds in the Black Forest during those days.


Creation of the physical Consensus Process One
As a traditional artist before venturing into crypto art, I've always been attracted to lengthy and meticulous processes. Before investing dozens, often hundreds of hours, I typically created digital mockups of my artworks to validate my ideas and compositions.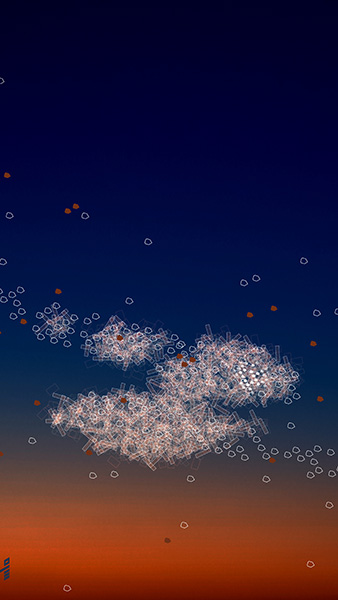 My approach gradually evolved from using digital tools to augmenting physical artworks with digital components like Augmented Reality and animation.
However, the more I immersed myself in digital art, the more I began to consider the digital component during the physical creation process.
The concept flipped for the first time with the physical Consensus Process One. Long after the digital painting was completed and tokenized, I decided to transform it into a physical artwork.
The clouds in Sherbrooke, Quebec, in the Noctilucent Memento #183 (first collected by kevolina.eth) commemorated this moment as an artwork.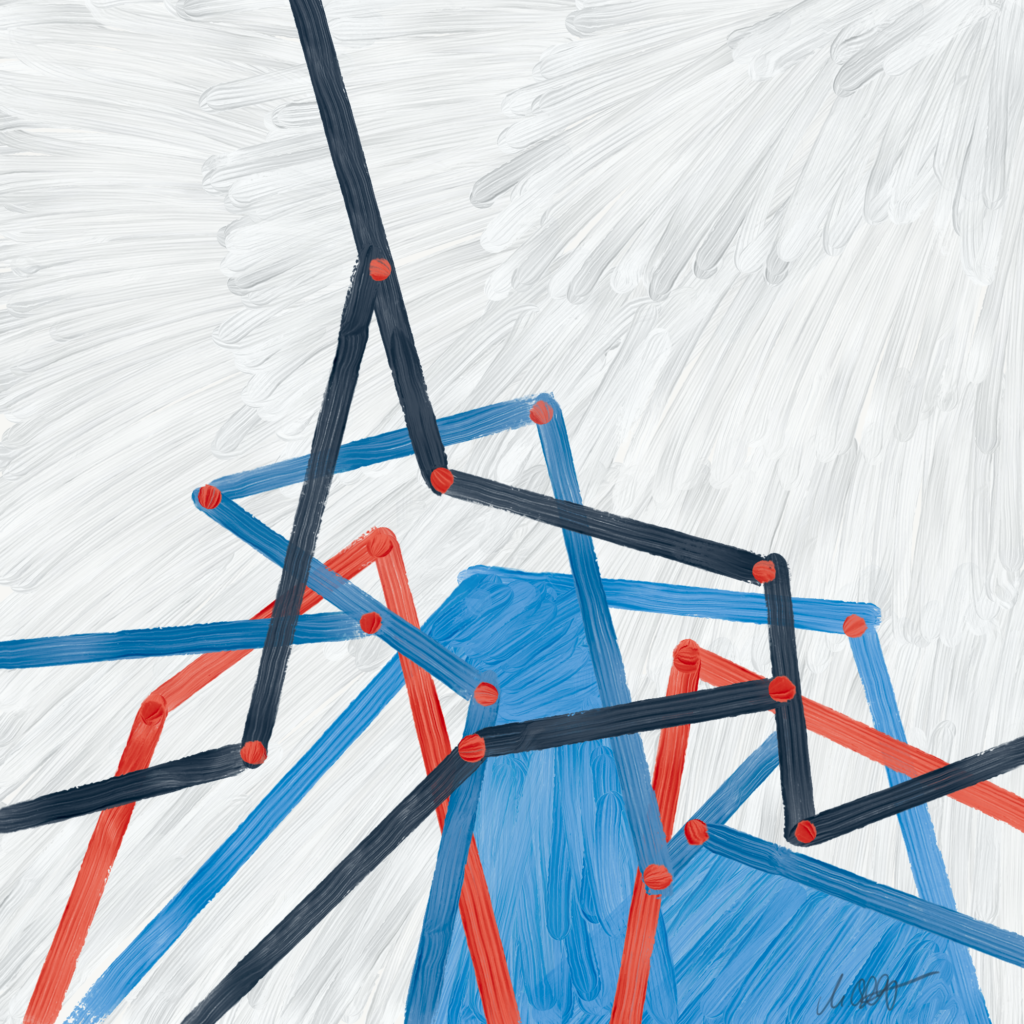 November 2018
Binary/Non-Binary Geste Paris Group Exhibition
Noctilucent Memento #97 brought together two events in November while I was in Toronto. On the one hand, the Geste Paris Group Exhibition commenced. Geste Paris is an annual underground exhibition of experimental photography organized by Shiva Lynn Burgos.
The curators of the Binary / Non-Binary editions included digital art curators Georg Bak and Jason Bailey, aka Artnome. My Cloud Sphere Twelve (2018) was selected for the exhibition.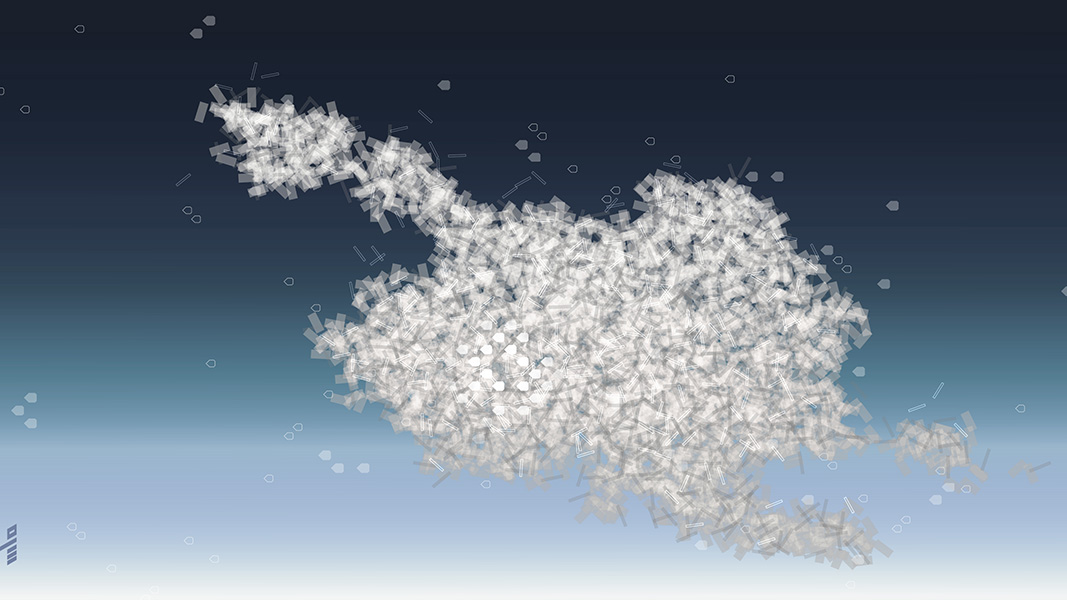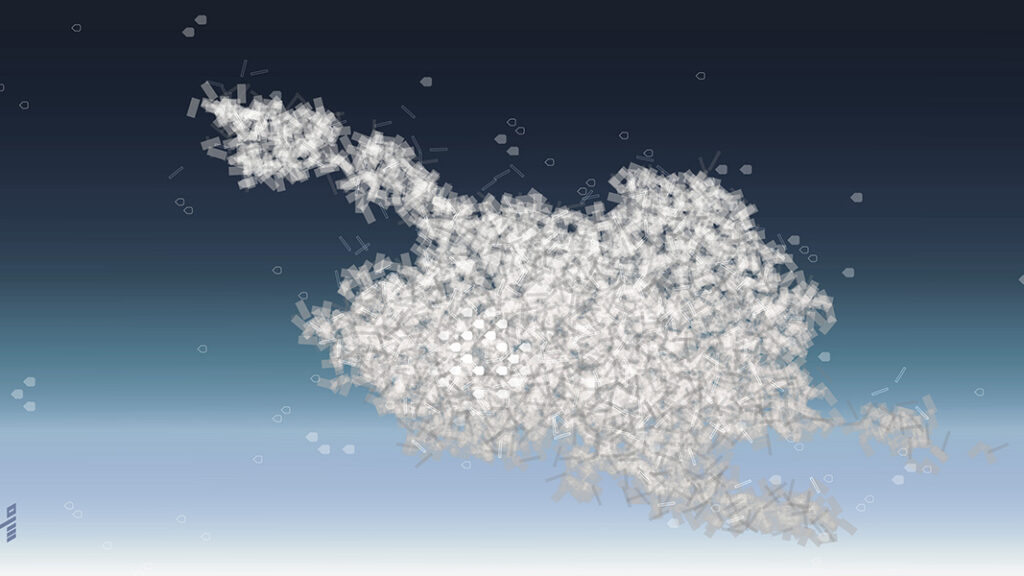 On the other hand, the Noctilucent Memento remembered my art being featured in the Articulation Magazine, an interdisciplinary print and digital magazine run by alumni of Montreal's McGill and Concordia universities focusing on un- and underrepresented topics of cultural interest.
The second event also centered around my Cloud Spheres series, as the fall issue themed "The Art of Healing" featured my Cloud Sphere Four (2018), Cloud Sphere Nine (2018) and Cloud Sphere Ten (2018). The meditative process of creating the spheres during passenger flights was complemented with poetry in the magazine.

Osez Jaune Group Exhibition
The Maison des Arts et de la Culture in Brompton, QC, hosted their annual group exhibition themed "Osez Jaune," French for "Dare Yellow." Among 69 other traditional artists, I exhibited my physical Consensus Process One (2018) woven painting from above.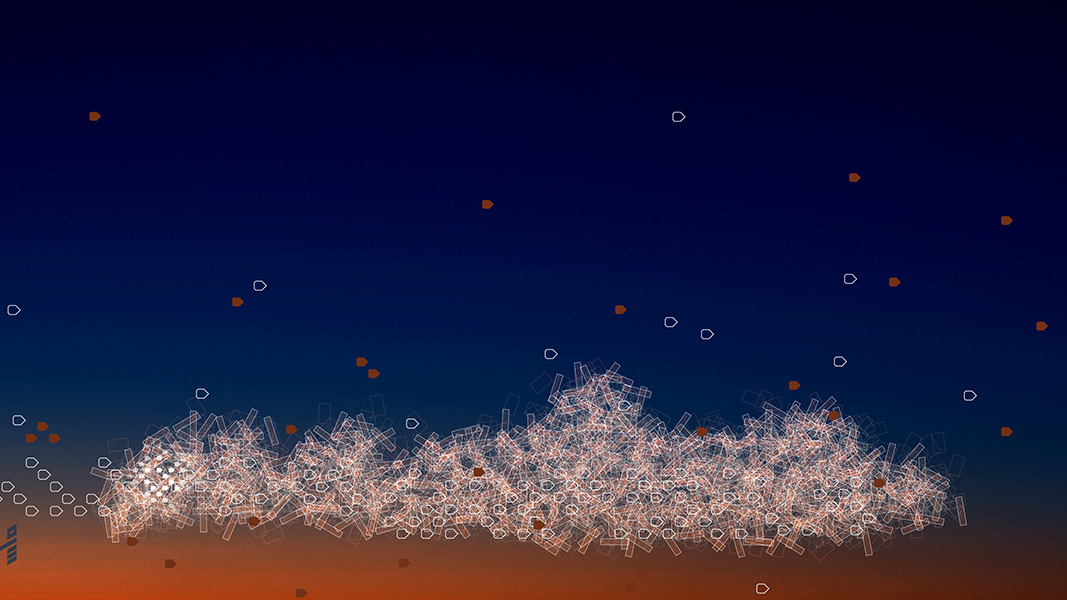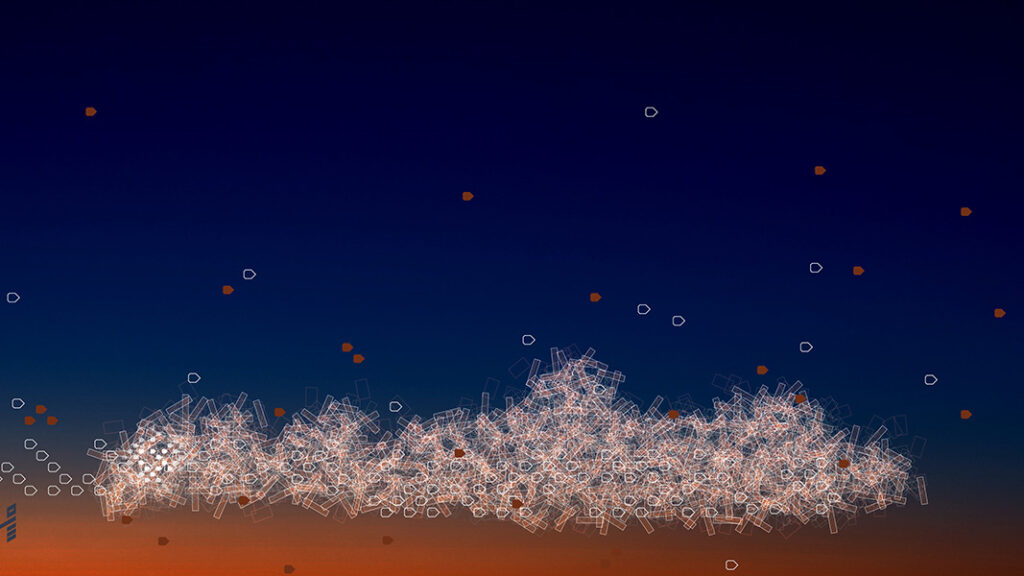 Exploring the Blockchain thematically, I set the price of an artwork exclusively in crypto, specifically in ETH and BTC. While this decision sparked some interesting conversations with artists and visitors during the vernissage, I observed that, unsurprisingly, most visitors and artists rejected the idea of Blockchain technology and digital currencies altogether.


The concept of tokenizing digital art appeared too complex or sketchy for traditional artists and the general public to grasp. Noctilucent Memento #177 captured this initial experience of trying to generate interest in the subject matter.
Intersections #9 Conference by Printemps Numérique
Following a call for Blockchain art in late summer 2018, I received an invitation from Printemps Numerique to exhibit my crypto art at the Canadian Centre for Architecture in Montreal during their intersections series. This 9th edition was Blockchain-themed, exploring the spectrum from promises to applications.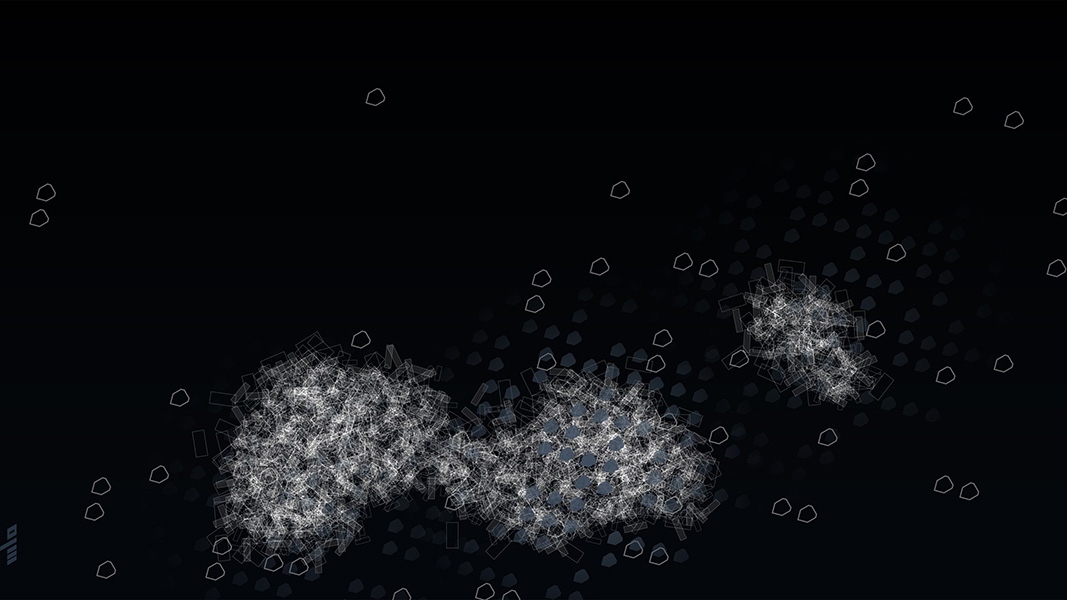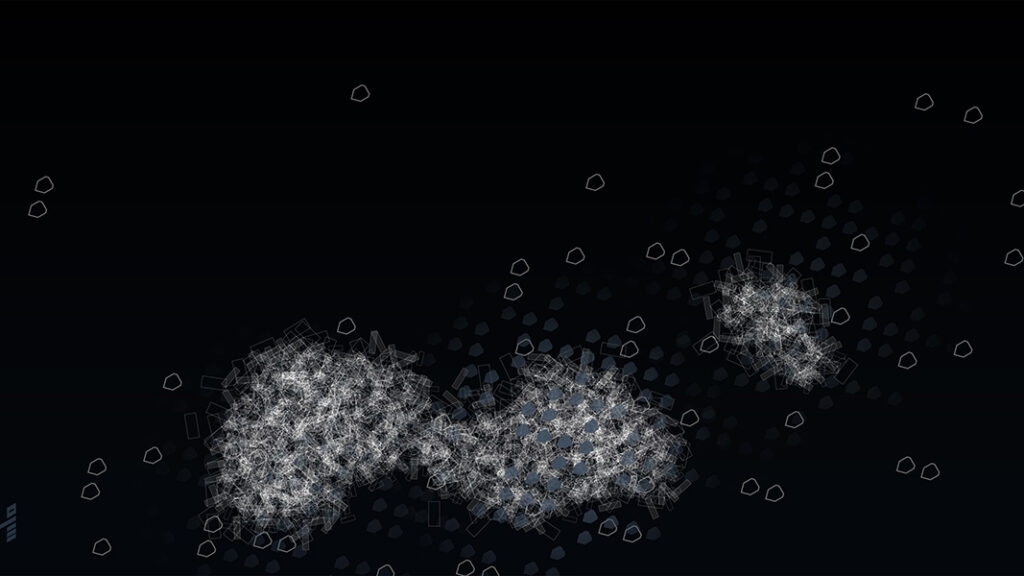 In preparation for the event, I began working on a JavaScript-based live visualization called "Metronomes of Decentralization," which plotted a cloud segment every time a new transaction block was issued on Bitcoin and Ethereum separately.


I was thrilled at the prospect of meeting other crypto artists, as most of my exchanges with fellow artists had been limited to Twitter and Telegram. Unfortunately, I turned out to be the only crypto artist present. Nevertheless, it was a valuable experience showcasing my cloud-themed body of art and attending a crypto conference for the first time. I also had the opportunity to give my first interview about my work as a crypto artist for CryptoNews. Noctilucent Memento #171 encapsulated these milestones.
However, the aftermath of this event was significant for me. Writing about the event and my new visualization made me aware that Rhea Myers had done similar projects about four years ago. This realization prompted me to check the novelty of my art projects before investing several months into them. It led me to review the history of crypto art for the first time, resulting in eventually documenting the history in a timeline and earning me the nickname "crypto art historian."
December 2018
Encrypted Block Cloudscape and CryptoNews Article
Noctilucent Memento #104 (first collected by Tokenangels) commemorated two coinciding events at the beginning of December. I completed my new woven painting, "Encrypted Block Cloudscape," on the morning I left for Ottawa, ON.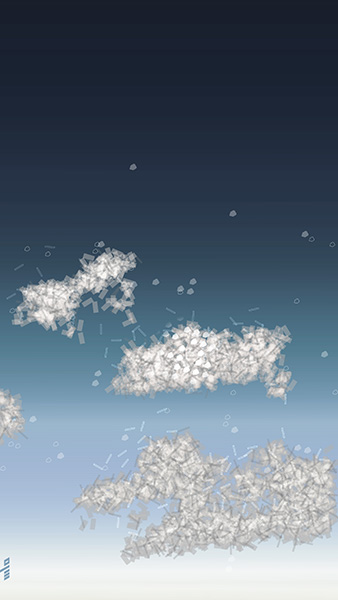 I began exploring algorithms through woven painting patterns. In this specific artwork, I cut up a larger cloudscape painting, then reassembled and wove the paper stripes following simple rulesets, essentially creating an algorithm in the process.
The positive response to some of my previous physical artworks convinced me that using physical artworks and analogies is more accessible for people to understand than exclusively digital mediums. Removing any digital component appeared to eliminate one entrance barrier to the subject.
The second reference occurred during my trip to Ottawa. The CryptoNews.com article was released for which I was interviewed at the Printemps Numerique Blockchain event the previous month. It marked my first French interview and press mention as a crypto artist.


Hackatao's Fight Fear Exhibition
The final Memento of 2018 references Hackatao's solo exhibition, Fight Fear, in the alpine city of Tolmezzo, Italy. Noctilucent Memento #105 was initially collected by the artist and depicted the clouds over Dallas, TX, where I travelled during the exhibition.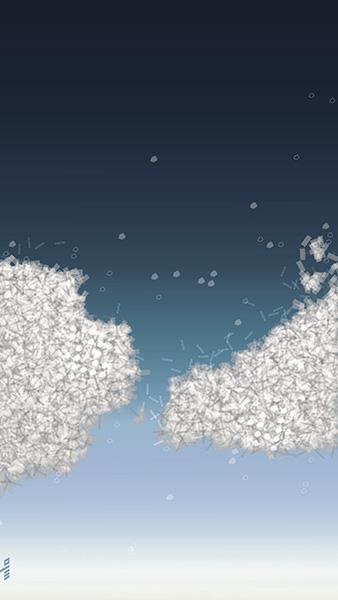 Fight Fear was Hackatao's solo exhibition with a dedicated section for crypto art, for which Jason Bailey (Artnome) wrote the exhibition text/introduction. It served as a crypto art survey of 2018 artists, showcasing this emerging artistic movement on the Blockchain.
The section featured my Cloud Seed Phrase Visualization (2018) alongside works by Robbie Barrat, Xcopy, Ophelia_Fu, Pindar van Arman, Ilan Katin, Coldie, PlaceofMany, Maryannead_Art, Hack6C (the collaboration of Hackatao and Hex6C), Bard Ionson, Aronymousart, OficinasTK, and Cryptopunks.
The exhibition was a notable example of the growing crypto art community and its collaborative approaches among artists from around the world who had not met in person before. Special thanks to Mattia Cuttini, who generously shared his photos, two of which are featured below.


Continue reading:
Overview of the Five Years of Crypto Art Series
2018 (1/6) – 2019 (2/6) – 2020 (3/6) – 2021 (4/6) – 2022 (5/6) – 2023 (6/6)