Blockchain Technology and Inclusive Decentralization
Back in 2014, when I first started my art blog, I set myself the target to have a solo exhibition, not knowing at all what it entails. In September 2019, my first solo exhibition entitled Tropopause Contemplation – Blockchain Technology and Inclusive Decentralization took place at the Centre Culturel et Communautaire Françoise Dunn in Sherbrooke, QC, Canada.
Preparing towards my show, I encountered both tremendous support on the one hand and vast indifference about my subject matter on the other, which I expected. There is a lot to be grateful for and I may elaborate on my experiences working towards this exhibition in a separate blog post.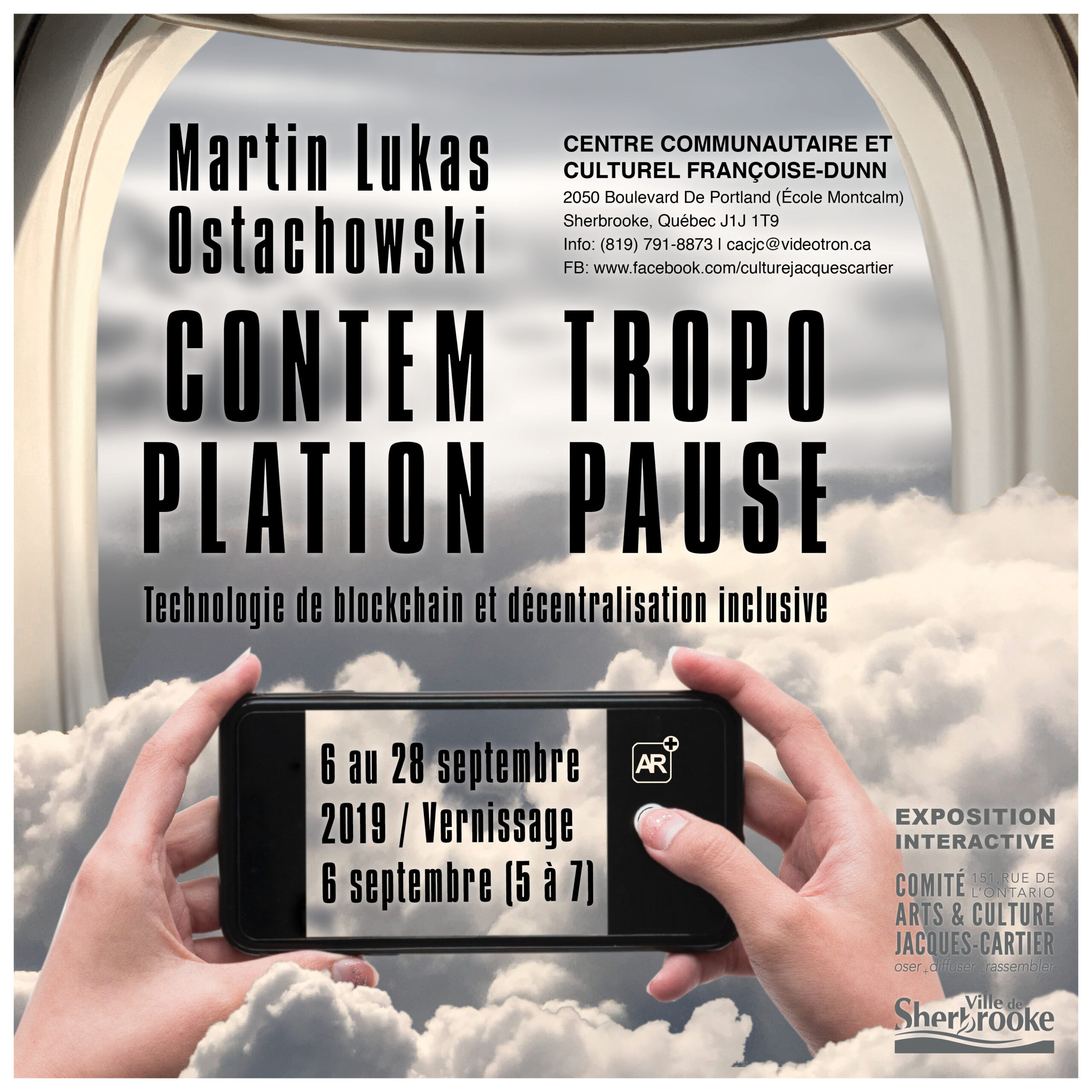 I ended up postponing my solo exhibition by a year to develop a more cohesive body of work and storyline. For my first show, I wanted more time to create a coherent visual introduction to a new technology that is expected to change our lives. The exhibition guides the audience through core concepts such as transactions, transaction blocks, decentralization, encryption and hashing. My increasing interest in and knowledge of Blockchain allowed me to explore this subject further. To give you a quick impression, I compiled a short exhibition trailer (40 seconds with sound) of the exhibition setup.
Exhibition Press Release
UNE PREMIÈRE AU CANADA
EXPOSITION SOLO INTERACTIVE / FAIRE DE L'ART AVEC LA BLOCKCHAIN
Martin Lukas Ostachowski, artiste multidisciplinaire
Vernissage : vendredi 6 septembre, 17 h à 19 h
Sherbrooke, 02 septembre 2019 – du 6 au 28 septembre prochain, le Comité arts et culture Jacques-Cartier vous invite à l'exposition solo, Contemplation tropopause mettant en vedette les œuvres singulières de Martin Lukas Ostachowski. Le vernissage aura lieu au Centre communautaire et culturel Françoise-Dunn (école Moncalm), le vendredi 6 septembre prochain à 17 h.
À propos de l'exposition
Dans les dernières années, l'artiste Martin Lukas Ostachowski a effectué plus de 200 vols à travers le monde. Il a ainsi passé d'innombrables heures à contempler les nuages de la tropopause, cette fine couche de l'atmosphère où circulent les avions. C'est en observant ces formations de nuages qu'il a pensé associer nuage, art et technologie blockchain (ou chaîne de blocs — technologie sous-jacente de la crypto-monnaie).
En combinant les arts traditionnels et modernes avec des procédés de fabrication comme le tissage, le découpage à la main et au laser, les peintures sur papier de l'exposition Contemplation Tropopause illustrent les processus au cœur même de l'environnement blockchain. Les œuvres singulières de l'artiste Ostachowski font état d'une nouvelle forme d'art qui utilise des visualisations basées sur des algorithmes et des animations, éléments centraux de cette discipline; nouvel enjeu technologique et social. Lors du vernissage, l'artiste proposera aux personnes présentes, possédant un téléphone intelligent, une expérience interactive en lien avec le blockchain. Toutes les œuvres d'art peuvent être achetées en argent ou avec les crypto-monnaies.
À propos de l'artiste
L'ensemble des œuvres de l'artiste Martin Lukas Ostachowski explore l'architecture de blockchain. La transformation continuelle des nuages dans le ciel le fascine en tant que voyageur, leur esthétique combinée à leur symbolisme à travers le temps et les cultures est une source d'inspiration constante pour lui. Dans sa série actuelle, il explore les nuages dans un contexte de blockchain comme un symbole contemporain du stockage de données et de la connectivité. Pour l'artiste, cette technologie représente la transformation et l'espoir d'une distribution équitable des opportunités et de la richesse. À travers ses œuvres, il souhaite rendre accessible cette technologie complexe et générer des discussions sur son profond potentiel transformateur.
---
I want to close this post by thanking the Comité Arts et Culture Jacques-Cartier, in particular, the previous director Clément Drolet and the current director Brigitte Graff for their early support and creative freedom. A big shoutout as well to Serge Maurice and Nadia Loria Legris for their patience and efforts in helping me to realize my ideas.
It was a great experience and I strive to expand and develop this body of work further.