The Path from Outcast to Art Museum
This article was published first in an abbreviated form at RightClickSave on January 14th, 2023. Below you will find the original text:


In October 2022, visitors to Kunsthalle Zürich in Switzerland were surprised to see Pepe the frog and the crypto art community that emerged around this memetic figure in a first institutional art exhibition. The show entitled DYOR – Do Your Own Research, curated by Nina Roehrs, emphasized the pioneering role of this Bitcoin blockchain-based project in the development of crypto art in general. "Most of the established art world only knows blockchain and NFT since the hype year 2021, so it's important to showcase its origins and the facets that go back much further," stated curator Nina Roehrs. The exhibition featured a prominent Pepe space sub-curated by Fabian Wyss (aka FWD). A living room-style space offered visitors a glimpse into a green- (Pepe), and orange- (Bitcoin) pilled community, showing the Crypto Art journey of one distinct, endlessly redrawn frog on its way to becoming the millennial's Mickey Mouse.
Rare Pepes are collectible digital trading cards that memetically explore the cartoon frog, Pepe, to varying degrees. American artist Matt Furie first created the character Pepe back in 2005 for his self-made zine Playtime which would become boy's club and featured slacker roommates in their post-college period. Matt scanned the comics and posted them on his Myspace account, where they went viral, initially within online bodybuilder and anime communities. The Rare Pepe project, meanwhile, evolved from Pepe's meteoric rise as the internet's mascot, peaking in 2014 when celebrities such as Katie Perry and Nicky Minaj posted viral frog memes on their social media channels.


Around that time, message board users started introducing the idea of rarity and added watermarks to their memes, some referring to and naming them Rare Pepes. Users also began creating collections of Pepe memes, exchanging them like trading cards, and the number of different versions quickly exceeded over a thousand memes. Within months these collections started to surface on marketplaces such as eBay or craigslist, with a prominent auction being taken down by eBay in April 2015 while the highest of 126 bids was USD 99,166.


In September 2016, an anonymous user called Mike created three Pepe trading cards, backing them on the Counterparty protocol, an application layer of the Bitcoin blockchain. Mike tokenized the trading cards as Counterparty assets in indistinguishable editions. Although they are conceptually often referred to as some of the first NFTs, they are, by definition, not NFTs due to their fungibility.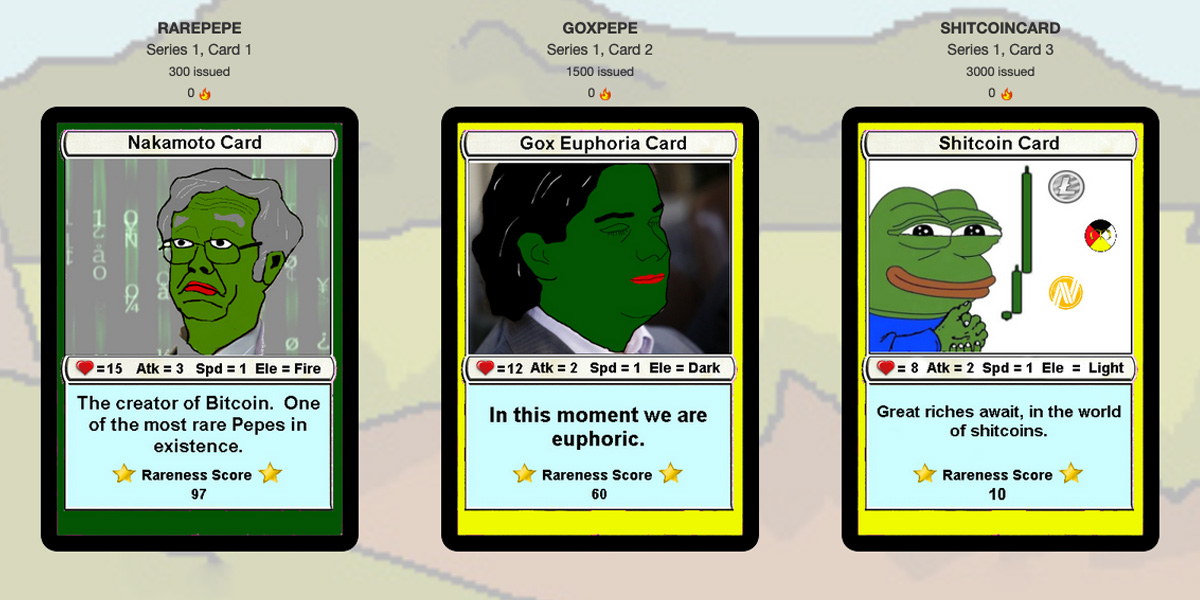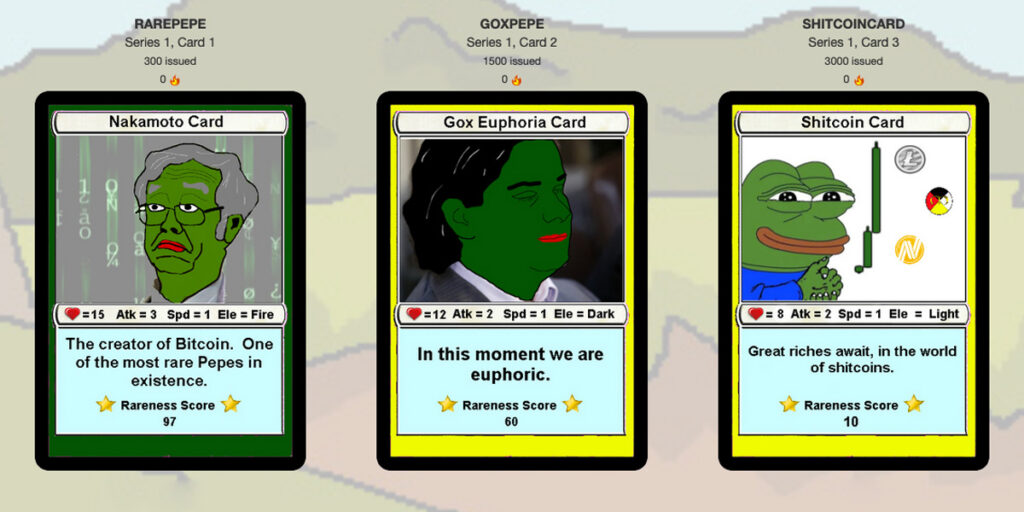 Mike's project was highly influential in the development of the crypto art movement. Rare Pepes became an inclusive community-driven project when Joe Looney adapted his BTCPAY Counterparty marketplace to create the Rare Pepe Wallet, a wallet and essential marketplace to collect, display and trade the trading cards dedicated to Rare Pepes. Until then, only a few technologists and even fewer Blockchain gaming companies were exploring the idea of tokenizing assets. With Rare Pepes, anyone who demonstrated a minimum of effort and respected the 'safe for work' policy could submit designs to create Rare Pepe cards. In doing so, Rare Pepes removed the technical entry barriers to creating crypto art and initiated hundreds of users and first-time collectors. Hundreds of cards were made, shifting the focus of the meme towards documenting its Blockchain personalities and history.


Unsurprisingly, it was a Rare Pepe card which sold for the highest price at the Rare Art Fest, a milestone event and auction of early Blockchain and crypto art projects in New York in January 2018. The "Homer Pepe" card by the anonymous artist ICQ sold for the record-breaking sum of USD 39,000 in the internal 350,000 PepeCash digital currency derived from a Rare Pepe card of high issuance. The auction made international news and put the concept of tokenizing artworks and creating NFTs on the map.
Nevertheless, despite the tremendous influence and impact of Rare Pepes in the crypto scene, the political misappropriation of the frog memes outside the community overshadowed their success. The false association of Pepe with the far-right movement initiated the so-called "greenwashing" period in which Rare Pepes were written out of crypto art history.
In a nutshell, when Pepe memes reached the mainstream in 2014, the harmless, creative and very humorous cartoon character created by illustrator Matt Furie became the world's most powerful meme. However, message board communities such as 4chan, which popularized the frog memes, became irritated and wanted the public to stop using "their" meme. The cartoon frog, one of four characters in Matt Furie's comic exploring slacker roommates and the post-college time, changed considerably in subsequent memes.
Users tried to outdo each other in making the Pepe memes as offensive and cynical as possible, including racist themes. When Donald Trump announced his presidential candidacy, it resonated with the message board communities who identified with his role as a societal wrecking ball. The memes became political, and white supremacists adopted many of the Pepe memes. Hilary Clinton's campaign posted an explainer website defining Pepe as a hate symbol linked with the Alt-Right movement in September 2016. Shortly after, the Anti-Defamation League (ADL) included Pepe in its hate symbol database but acknowledged that in most instances, Pepe was not used in a hate-related context.


Creator Matt Furie tried reclaiming his character Pepe, stating Pepe was never intended as a hate symbol but instead a symbol of love. With the ADL, he started a #SavePepe campaign that proved unsuccessful. Frustrated by the seemingly unstoppable trajectory of Pepe memes, Furie even tried to kill Pepe with a short comic strip featuring Pepe's funeral in 2017. When the misuse continued, Furie started prosecuting and enforcing his creative rights against far-right commercial projects with the help of pro-bono lawyers. Among the 100 far-right entities against whom he successfully enforced his rights was a racist children's book by a Texan assistant principal and posters by American far-right radio host and conspiracy theorist Alex Jones.
Independently, and possibly unaware of the political direction Pepe took in the United States, the Rare Pepes movement inspired two derivate project forks in Asia, namely MemoryChain and Oasis Mining. It was also the Asian community which eventually catalyzed Pepe's redemption. In 2019, Pepe became a symbol of hope during the Hong Kong protests. A controversial extradition bill imposed by China sparked large-scale pro-democracy protests prominently featuring Pepe as its symbol of resistance across the city, on banners, plush toys, T-shirts and graffiti. The demonstrations were pivotal in changing Pepe's narrative internationally.


Since then, an independent movie entitled "Feels Good Man" was made in 2020, which summarizes Pepe's turbulent history and contributes to establishing the reclaimed narrative. Early Crypto Artists who had advocated for establishing Rare Pepe's relevance in crypto art finally attracted attention. The previously mentioned record-setting "Homer Pepe" trading card changed hands for another record-breaking $320,000 to prominent Crypto-Art collector TokenAngels. The collector was instrumental in facilitating the inclusion of Rare Pepes in Sotheby's inaugural NFT auction in October 2021. During the auction, his single-issuance Rare Pepe card closed as the highest lot for USD 3.65m. It marked the decisive end of the greenwashing period.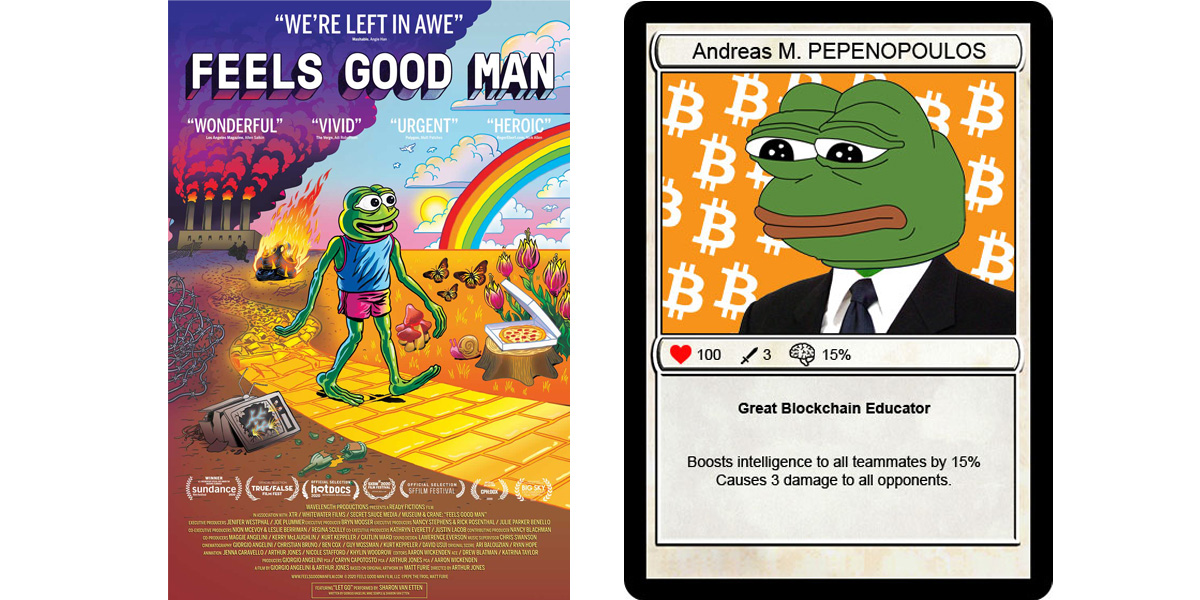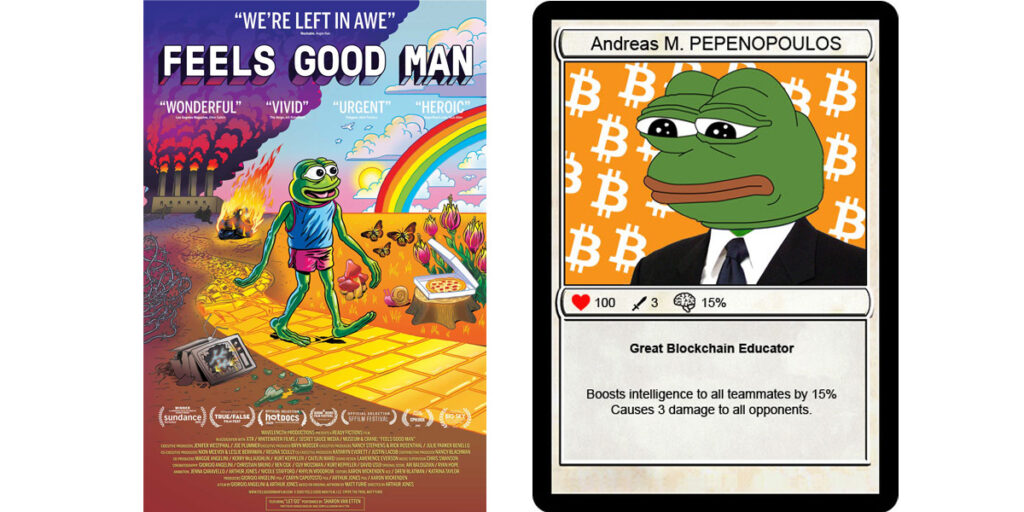 The Rare Pepe directory ceased accepting new trading cards back in 2018, which was primarily attributed to the high Bitcoin transaction cost at the time. History came full circle for the Rare Pepe community when Matt Furie created his own Rare Pepe card entitled FEELSGOODMAN in 2021. The card had been reserved for the Pepe creator in 2016. With the creation of his card, the Rare Pepe directory is now complete.
With the increasing interest in crypto art and early projects, some of the first Rare Pepe cards were traded for up to USD 600,000. Following the continued interest of artists wanting to create their own Pepe memes, the community led by artist and Rare Pepe card creator Scrilla started a new derivative project called Fake Rares. The creator of Rare Pepe Wallet Joe Looney pitched in and created the corresponding Fake Rare Wallet.
Along with the rapidly growing directory of cards, the burgeoning community also came together in real life and organized several gallery events such as in Miami, New York and Basel. Similar directory projects such as Fake Commons and Dank Rares emerged shortly after. Even years later, the lively Rare Pepe community continues to explore Pepe's memetic power.
Many of the original Rare Pepe artworks which became trading cards along with new Fake Rare artworks and cards, are on display at the DYOR – Do Your Own Research exhibition. If you are in Europe, DYOR runs at the Kunsthalle Zürich, Switzerland, until January 15th, 2022.
Image Sources: