My recent digital artwork entitled Tokenized Cloud Sphere Eleven ATL to YYZ was selected to be on display at the Binary / Non-Binary GESTE exhibition in Paris, France. GESTE is committed to experimental processes and invites photo-based artworks from outside the normal bounds of photography.
In its third edition, the GESTE exhibition held for the first time an international open call and accepted works of 19 contemporary and emerging artists. My work was selected along with 18 other artists from around the world. The international jury included high-profile art experts such as Raina Lampkins-Fielder (museum curator and multimedia artist), Marc Lenot (economist and art critic), Brandei Estes (Head of Photographs at Sotheby's London) and Jason Bailey (blockchain, provenance, and digital art expert) among others.
The exhibition is curated by Shiva Lynn Burgos, Georg Bak and Alisa Phommaxahay and features many famous international artists such as Constantin Brancusi, Frederick Sommer, Pierre Molinier, Hiroshi Sugimoto, and many more. (Click here to review the list of all participating artists). It is really an honour to have my work selected and shown along with so many established artists.
The group exhibition takes place at GESTE, 10 rue Croix des Petits Champs, 75001 Paris, France from November 5th to December 1st. The vernissage is held on November 5th, 2018.
Please consult the GESTE website for the viewing schedule, you can find it here.
GESTE Exhibition Description:
Binary / Non-Binary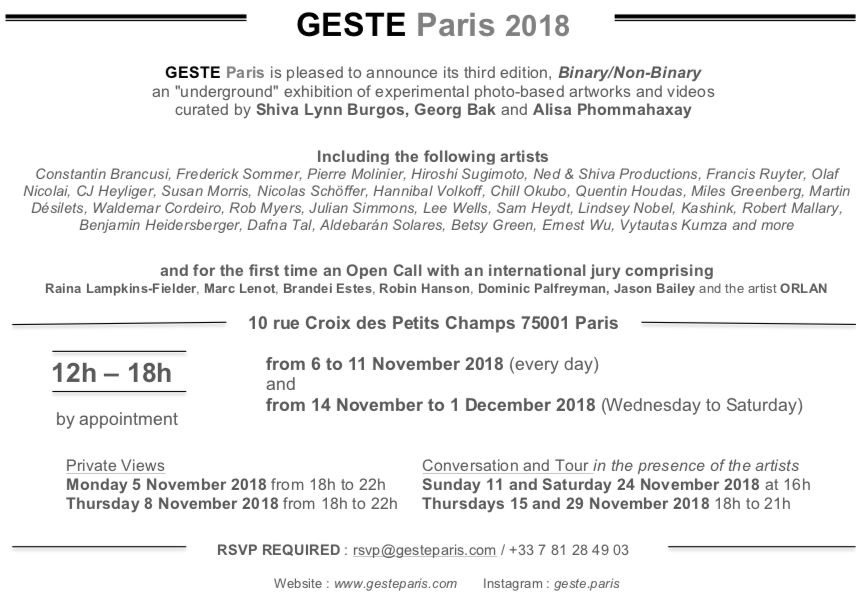 Black or white, on or off, male or female, digital or analog, zero or one. A binary viewpoint divides the world cleanly and everything is in one category or the other, as two alternatives existing in opposition. The non-binary viewpoint opens the world up to a multiplicity of categories, rejecting the simplification and contrasting nature of the binary position and yet must include both the single and the infinite.
How do artists exemplify these concepts today and how do they co-exist?
The world is not black and white but full of greyscale and colour and even ultra- and infra-colours beyond the range of our human eyes. Where does the spectrum lie in terms of scientifically definable code, digital geometry, astrometrics, consciousness, sexuality, spirituality, artificial intelligence and the technological singularity?
Description de l'exposition GESTE:
Binaire / Non-Binaire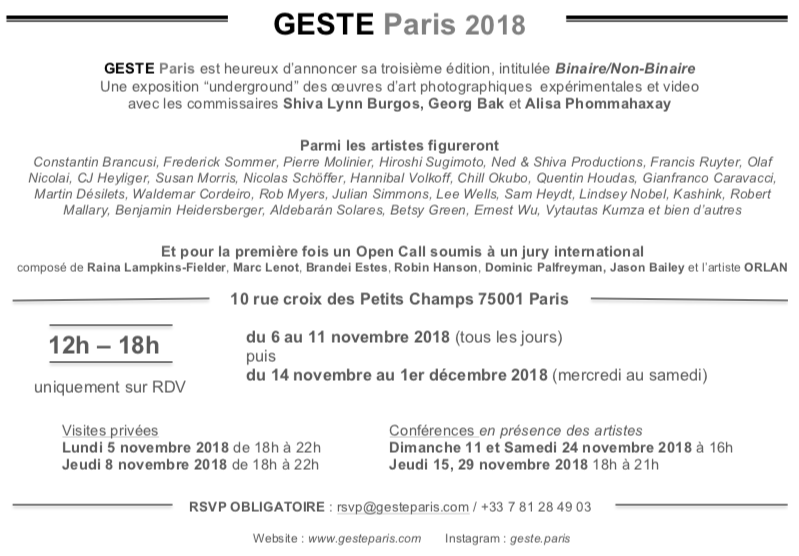 Noir ou blanc, on ou off, masculin ou féminin, numérique ou analogique, zéro ou un. Un point de vue binaire divise le monde proprement, comme deux alternatives existantes dans l'opposition. Le point de vue non binaire ouvre le monde à une multiplicité de catégories, rejetant la simplification et la nature contrastée de la position binaire, tout en incluant à la fois l'unique et l'infini.
Comment les artistes illustrent-ils ces concepts et comment coexistent-ils aujourd'hui?
Le monde n'est pas noir et blanc, innombrables sont les niveaux de gris et de couleurs et même d'ultra et d'infrarouges au-delà de la perception optique humaine. Où se situe le spectre en termes de code scientifiquement définissable, de géométrie numérique, d'astrométrie, de conscience, de sexualité, de spiritualité, d'intelligence artificielle et de singularité technologique?
GESTE in the press: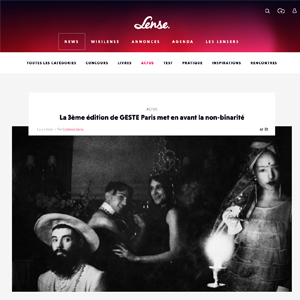 ---